According to the survey of ICTnews in the morning of 16/11 – the first day pay-out mobile subscribers of VinaPhone, Viettel and MobiFone can switch to other networks and retain the old number according to MIC's policy, at most Transaction Points are empty.
At Viettel 498 Xa Dan, from early morning to 8:30 there are no customers to shop. The time of the reporter's ICT news is only a few guests to pay the freight.
Similarly, at VinaPhone 57A Huynh Thuc Khang – one of VinaPhone's biggest transactions in Hanoi, representatives of the business said early in the morning, the guests did not make networking procedures.
VinaPhone transaction office 57A Huynh Thuc Khang
Meanwhile, at MobiFone 97 Nguyen Chi Thanh Transaction Office, the staff said that from early in the morning, only a few guests from other networks came to the process.
MobiFone Shop at Nguyen Chi Thanh Street
A registration form for a customer at MobiFone Transaction Office Nguyen Chi Thanh
Exchange with ICTnews, Transaction Point representatives is common sense will not have the status of "pushing" to the process that the story requires for registering personal information managers or switching from 11 to 10 numbers.
VinaPhones number portability board
Representatives of Viettel 498 Xa Dan said that from the afternoon of November 15, some customers came to learn about conversion, but because it is not urgent, customers can "let go" "To do the next procedure, did not necessarily arrive on the 16th / 11th
"The lack of customers to move the network immediately reflects a part of the package policy, the customer network is satisfied customers, there are no very pressing things to swap immediately," the big evaluation of telecommunications companies.
In addition, the network connection switch in addition to the direct access points can also be made via channels such as online, via the application, customers can make at home so these are also the reasons for business transactions.
As with Viettel, from 16/11/2018, customers can implement transfer procedures to Viettel, keep the same number in the store, Viettel Transaction Office, My Viettel Application, Site Transfer Number, or Registration Number. to be served at home.
By the time before November 16, the network has completed the process of transferring numbers has been issued by telecommunications companies and training for each agent, agent, customer service staff, each service point … ensuring consistent operation and smoothly across the country, optimizing and saving network time for customers in need.
At Viettel 82 Le Trong Tan, in the morning there are 2 customers to carry out routines to keep the number. The two network transmission agents in the store did not give specific reasons for leaving their old network to move to a new operator.
Business professionals have been educated and informed about the number portability service from the last month. So today, when the customer to the transaction is not difficult in procedures, Viettel staff provides files to customers to open network information and initialize the system after 24 hours. Inform customers who are authorized to switch to Viettel or not. Then the official network transfer procedures to Viettel.
Unlike subscriber subscriptions to personal data, the customer will not carry out procedures to keep the number predicted by the network, as only the subscribers are currently paying. After a period of use over 6 months to be transferred to other networks that retain the number of subscribers using. According to some comments, only when prepaid subscribers change network retention can the number of new subscribers increase.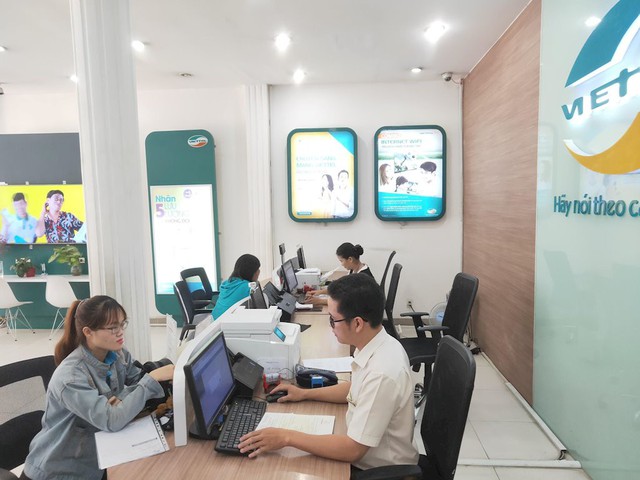 Customers at Viettel (Cong Hoa, Tan Binh, Ho Chi Minh City)
Default status for registering transmission networks also took place in Ho Chi Minh City. Representatives of Viettel said that customers spread only in stores, primarily for asking information. In the store 286 Cong Hoa (Tan Binh) Viettel's supermarket said some customers came to ask for the procedure, no customer has decided to switch networks. "In addition, networking can be done by calling Onboard, Viettel staff will receive support on-site, so the direct visit to the store can also be less," the store manager's name Force said.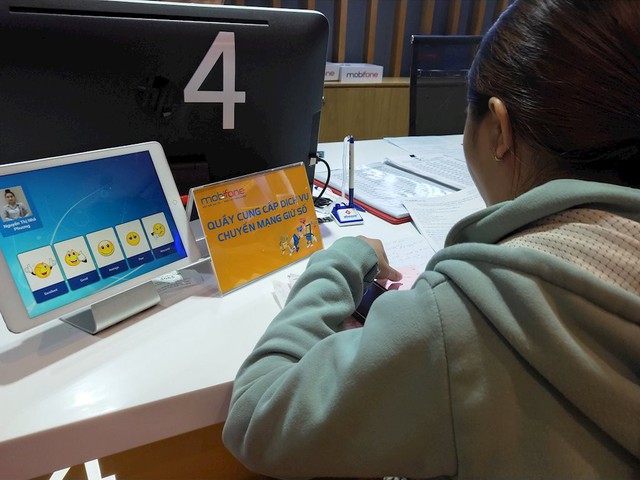 MobiFone has its own counter for number portability
Representatives of MobiFone said that on average, each store has about 4-5 customers to visit or perform number portability. The number of customers from Vinaphone to MobiFone is higher than other networks. Exchange with ICTnews at MobiFone's largest store at Nguyen Du street (District 1, HCMC), said a male customer to move from VinaPhone to MobiFone. The customer prints the details of the latest conversations and indicates that they are primarily in contact with the MobiFone number, thus switching to this network for more cost savings.
As introduced by ICTnews, Digital Portability (MNP) is a service that enables mobile subscribers to swap service providers while retaining their subscriber numbers. When the biggest barrier to digital change is over, customers can switch to what carrier they want.
According to the plan, as of November 16, 1818, major carriers VinaPhone, MobiFone, Viettel will distribute MNP service to postpaid subscribers. After 3 months, apply to all prepaid subscribers.
Commenting at the press conference on November 13, Nguyen Phong Nha, Deputy Director of the Telecommunications Department said: According to the rules in Circular 35, network subscribers have the right to transfer to another network or back to the old network after 90 days. , no restrictions on transfers.
Max. Service interruption for conversion is 2 days for individual subscribers, 3 days for subscribers, but usually only a few seconds.
According to PV Group
ICTNews
Source link