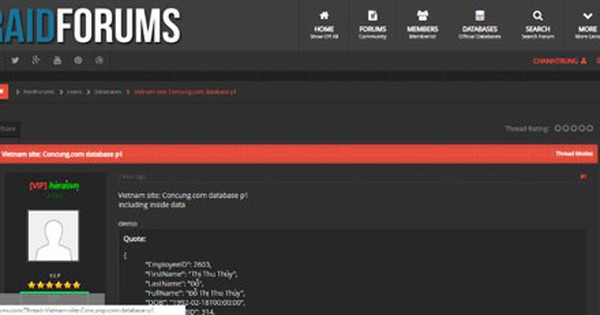 The allegedly revealed consumer information from Mobile World is still awaiting clarification. Hackers continues to release personal data from thousands of pacifiers and baby Con Con. Technical experts warn that corporate data hijacking increases, leading to unpredictable risks.
What causes leakage information?
In the afternoon of November 10, a hacker RaidForums sent a file of information (name, address, phone number, email address, employee position, workplace location …). There are 2 272 employees with images taken to prove that this data is true for the user to download. By analyzing and testing the file that the hacker has launched, Ngo Tuan Anh, Bkav's vice president for cybersecurity, has confirmed that it is possible to conclude that Conkie's data has been dropped. but not clear how to use the bad guys. According to Tuan Anh, employees who have personal information exposed to changing their password, be careful about strange emails, messages, signs of fraud to protect themselves. The corporate system has been penetrated so it is necessary to review, detect vulnerabilities and manage on time.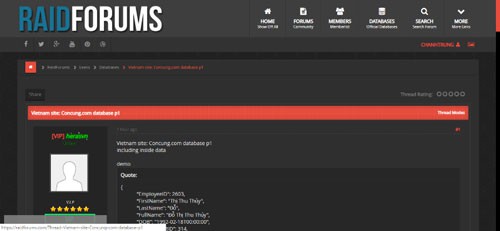 After the mobile world, the hacker was hacked to launch data believed on this company online Photo: Chanh Trung
As regards the possibility for customers to use the Mobile World Investment JSC (MWG) services to disclose personal data, the information security department, the Vietnam Computer Emergency Response Team – VNCERT has sent technical staff directly to MWG's work to help. So far, the Information Security Department has said no signs of hacking in system components related to personal data have been reported. The Institute for Information Security continues to coordinate with MWG and relevant authorities to review and review.
At the end of November 10, the director of a large bank (NH) card center said information from customers Mobile World was online, relevant ministries, Card Association and many banks. Comprehensive answer. Consequently, the NH list extracts the list of cardholders who handle World Mobile, credit card risk information. Thereafter, the bank will contact the cardholder, recommend that they lock the card or make a new card.
"If hackers attack the payport or the NH system to steal information, one or two sales companies may have exposed customer information that would have millions of cardholders attached to a variety of sales units. At the same time, in Vietnam, when customers pay the card, many sales units require services personnel to store card number on the system and may cause leakage of information. Cardholder comes from here "- card specialist internationally
What is the purpose of the hacker?
Also on November 10th, in addition to posting data allegedly by personnel and "threatening" continues to release customer data from honey, the hacker also sells quiet data by a second company. After communicating the employee's assumptions, the hacker will also be included in the next article in this hacker to launch customer data from Con. The hacker also claims that it owns data from FPT Shop, but this data will only be sold to the "willing" to buy. This information continues to make many users worried.
According to the Security Agency, the purpose of these attacks was to increase the hacker's personal information for cyber attacks, especially for phishing attacks. Ngo Tan Vu Khanh, Director of Development of Kaspersky Lab Vietnam, said, "Through these incidents, hackers can target many targets, and hackers can be hired by some hackers to steal information. In order to lower competitors' prestige, spread information to make users confused business or to release personal data from users to sell to other businesses and individuals to market services, junk mail is to advertise only hacker's hacking ability. "
IT specialists Pham Hong Phuoc:
Impact on e-commerce
Although it is not yet possible to verify data sources in the hands, leaks and theft of hacks, a number of data loss seems to have forced many to question. . Is it possible that all this was in deliberate tampering?
World Mobile Company has questioned competition in a random case. And it can not eliminate conspiracy theories to create demand for information security services, network security has become hot spicy.
Leakage of customer information and their electronic payment transactions affect e-commerce, electronic payments, online payments and even efforts to reduce cash payments. What Vietnam is doing They also lead to companies working online, and electronic payments are uncertain and the customers' mistrust led to a number of other consequences. Vietnam is a country with many network security systems, which is still insufficient, resulting from the small ignorance of companies and customers. Because there is no other way to accept the game, the company must strengthen the protection layers for themselves and their customers.
M.Trí Ghi
CHINESE – THY