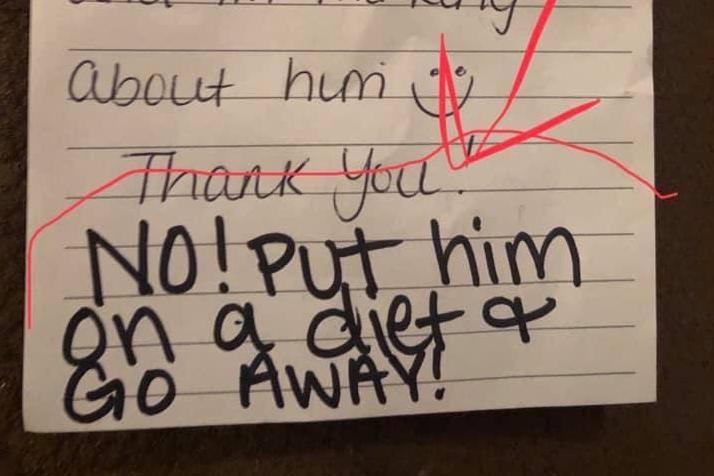 A daycare worker has been fired after writing a note to a mother telling her to put her five-year-old son on a diet.
Francesa Easdon, from Kingwood, Texas, recently began introducing her son Kyler to healthy food, so she added a note to his lunchbox asking that employees tell him he is loved.
However, according to Ms Easdon, she received the note back to find that a school employee had written: "No! Put him on a diet and go away! "
Download the new Indpendent Premium app
Sharing the full story, not just the headlines
Ms Easdon recalled the incident on Facebook, where she explained that Kyler is "extremely picky" so she has changed his diet and had discussed the changes with his school, Rocking Horse Daycare Center in Kingwood.
"For the record, I feel that Kyler is absolutely perfect the way he is, just helping him make healthier choices," she said before writing that she is in "absolute shock" over what happened.
She wrote: "I sent this note in Kyler's lunch box, thinking it would make him smile at lunch time, but instead, I received this in return from one of the teachers!"
"It took a minute to register what I even saw and I just kept re-reading it and I just stood there for a minute," Ms Easdon recalled to KTRK. She then reached out to the school.
"I was assured that it was being investigated and handled, yet almost no remorse was shown," Ms Easdon said, before adding that the teacher who wrote the note eventually "confessed and was fired".
Despite identifying the employee, Easdon said the daycare could take any further action – prompting her to remove Kyler from the school.
"I am disgusted that I put my trust in these people to care for my child and this is what I get in return," she wrote.
A director at the school told KTRK that they were sorry for the incident and confirmed the employee had been terminated.
Source link