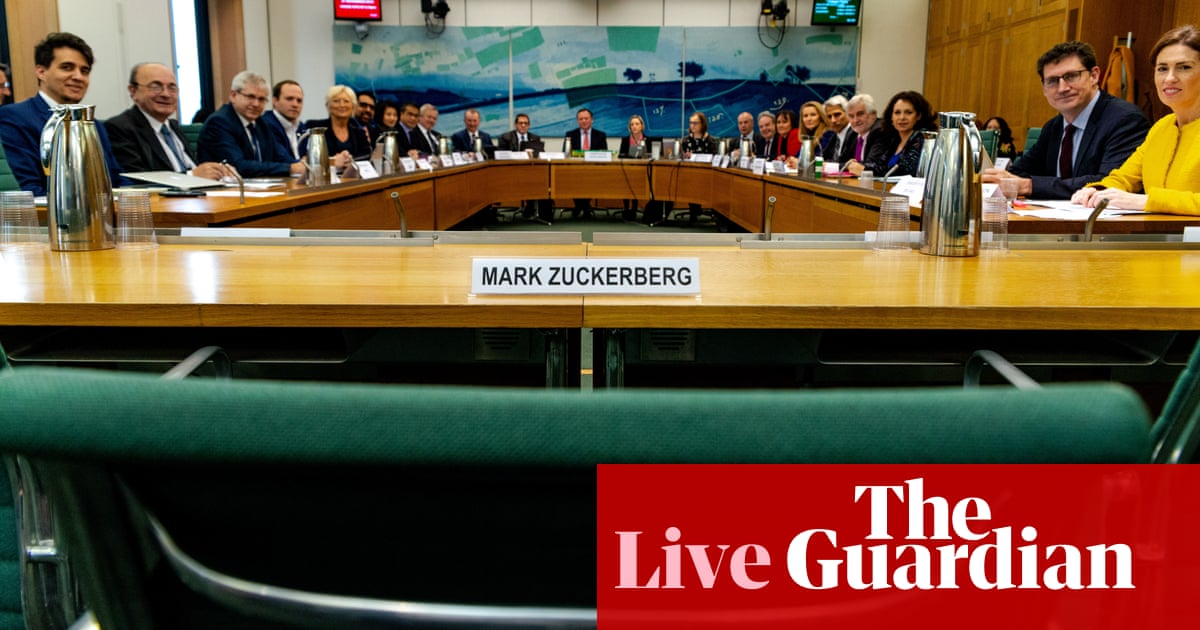 [ad_1]
Canada's Bob Zimmer asks if Allan believes that Canada's democracy is in danger if the country does not change its laws to deal with "surveillance capitalism".
Allan says there are a number of vectors that are problematic: foreign involvement, the ability of others to project their views in the country; but also domestic problems, so people in the country can make dirty campaigns.
After a short break from Ireland's Eamon Ryan, and a quip missing his gabled Zimmer, the Canadian asks for Zuckerberg's dismissal of the idea that Facebook influenced US elections as a "crazy idea".
Allan admits that it was "not elegant said" but says that "in a election campaign there is a large amount of legitimate business performed by all parties … We discovered this business was wrong, should not have happened but we keep in mind that if You look at what changed the outcome is the main point. "
"They are both problems, but if you ask me why this statement was made, I try to describe the idea behind it."
Updated

Britain's Brendan O & Hara reiterates the annoyance with Facebook's decision not to send Zuckerberg and asks if Allan was sent to answer questions or defend the company.
"Have you sent because you in the whole of the empire of the empire are the best person to answer all of these questions or because you are the best to defend the company?"
Allan says he thinks it's the last and reminds of Hara that Mike Schroepfer, the company's chief technology, had previously come and did not please the committee. He says that he volunteered to the committee: "I said," I think I have the knowledge that this group needs. ""
"To be precise, both for the issues you want to raise as the UK committee, and I'm currently working on electoral issues globally … these are the things I'm working with. Our work assumption was what you want to discuss."
O & # 39; Hara complains about how many times Allan promises to write in response to the committee and asks Allan what light he thinks he has shed on the issue that has given greater clarity than Zuckerberg could have.
"I think I've given you insights about how we're thinking about the regulation -" he's cut off by Collins, who handed over to the next questionkeeper.
Pow is looking forward to Facebook's decision to challenge a £ 500,000 fine from the information commissioner's office. Allan says there is a problem about how to assign the debt between a first party and a third party in the event of a crime here. "Some of the languages ​​here suggest that if I have an email and share it with a third party, it might be a crime. That's the kind of question we have to answer."
Pow suggests that the appeal shows that Facebook does not really like rules. Allan says, "We are pleased with the right legislation. Let's get to the point where you agree that we are doing the right kind of job and can keep us posted if we are not."
Updated

POW says it feels Facebook prioritized its business and the value of its shares over public security.
Allan says: "We have a mission. We want our service to be good, be useful and be sure."
Pow cites Allan's claim that the Facebook platform was "win win win" and says it now seems to be "losing losing losing". Allan says it's only true for a small set of specific problems.
Pow: "Mr. Zuckerberg said that much of the criticism of Facebook in the past 18 months had been fair and important. Would you agree?
Allan: "Yes."
Pow: "But in another article he said that much of the criticism had been untrue and unfair."
Allan says that some specific points are "quite personal attacks, which we do not recognize. I work with these people, and I do not recognize the mischaracterization of these people."
The increased trust in the company is, he says "a big problem. We recognize that we are not in a good position in terms of trust."
Updated

Britain's Rebecca Pow next, who wants to do some "fairly general points". She quotes a New York Times article that says Facebook "ignored warning signs" about the negative effects of its social networking.
Allan says that "the article has discussed discussions and people in recent years. We are careful about how we release general information about how they land. There is no point in releasing security information if everyone is to declare it as a party and dismiss it."
Updated

Canada's Nathaniel Eskine-Smith quote from Zuckerberg's statement apologizing for Facebook's failures, and notes that he was not sorry to show off.
He then rolls out a list of specific failures, so that the genocide Rohingya allows people to advertise to white supremacists and asks Allan if Facebook would do differently today.
He then follows up asking whether these failures were evil or negligible. Allan is not happy with the binary.
Erskine-Smith starts to ask questions that appear to be deducted from the Six4Three emails: Limited API API access to apps that purchase mobile ads; Mark Zuckerberg ever unchecked a message to implement API restrictions. Everyone begins to protest that the questions are based on the emails, but both Erskine-Smith and Collins deny that any content in the Six4Three emails was shared outside the DCMS commission. Allan then says he is not aware of the answers, and Erskine-Smith claims that Mark Zuckerberg should, why he should have shown himself.
Erskine-Smith then asks if Allan believes that the user's failure to uncheck a box to share data with app developer is considered "meaningful consent" under Canadian law, Allan says he does so and requests a laugh from Erskine-Smith.
Updated

Ireland's Hildegarde Naughton asks about Facebook's advertising ban during the country's referendum.
"We are not comfortable to make that decision," says Allan, but when there are no clear laws, the company is sometimes forced to act. The worry, he says, is that there were political disturbances from abroad.
Naughton takes up two private members' bills going through Ireland's parliament, asking if Allan accepts that Facebook has to be regulated. "Yes," he says. "Many of the laws on political advertising were drafted before the internet. We have seen many interesting developments: In Brazil, responsibility is placed on the political actor so that they can only use services with transparency tools. To the extent this is all clear and we have one simple playbook, it would be extraordinarily useful. "
"I now have tens of thousands of colleagues who are deeply committed to protecting our users' security. The best way to ensure security is when we can be very open about the problems we see. Some of the issues are on our platform and we can just throw them away, but some need regulation. If someone is a threat to children, for example, we do not want to throw them from the platform and make them go elsewhere. "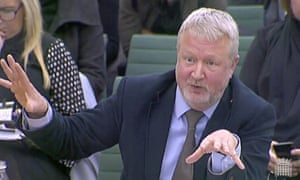 Updated

Farrelly is turning to "Mainstream Network", which ran ads opposite Checkers. Allan says that the company has stopped running these ads, but adds that "From this week all companies wanting to run ads must provide a disclaimer that says how it is financed."
(This is the first public confirmation when Facebook plans to launch the second half of its UK transparency tool, which was delayed earlier this month.)
Updated

Farrelly suggests that the six4 three emails, which we have not yet seen, show that Facebook potentially violates the American Rico Law, which is intended to kill organized crime. He asks if Facebook has ever advised how to defend against a Rico case. Allan says it does not have, and that such comparison is unfair.
Updated

Farrelly asks if it's fair to ask what Facebook has to hide. Allan: "I do not think it's convenient for us to share all our discussions with the public … as to what we did, we have nothing to hide, considering all our internal discussions, with those treated as company positions I do not think it is fair. "
Britain's Paul Farrelly returns to Six4Three. "What's their beef with you?"
Allan: "Their beef rests on us and makes the changes that you all want us to change. When we changed the API system, they lost access to the friends, and they launched a series of trials.
"Their app – I was not a user – promised to help you find pictures of your friends wearing bikini."
Farrelly states that it is "ironic" because of how Facebook started (as a website that allows users to compare Harvard students' hustle and bustle). Allan notes irony, but points out that "Facemash" did not include bikini images.
Updated

Allan says that the change in API terms occurred around the time Facebook transferred to being a mobile focused company from being a website, and it explains that some emails are apparently contained in the seized Six4Three cache. "All companies at that time discussed what the new business models look like … I suspect you may have in the discussion some partial discussions about potential new business models."
Updated

[ad_2]
Source link