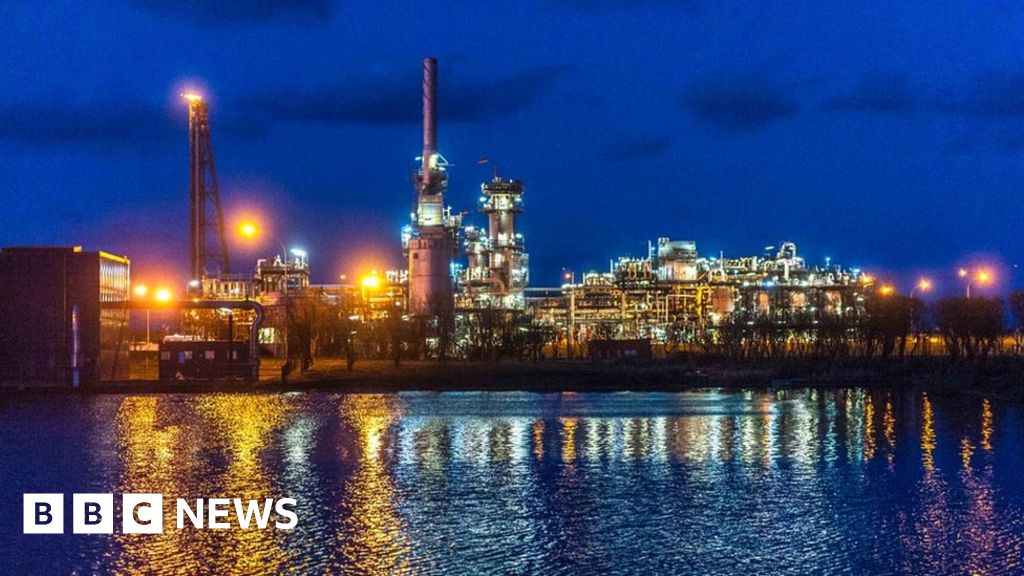 [ad_1]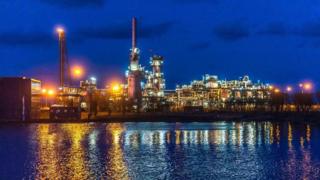 The UK's first carbon capture and storage project should work in the mid-2020s, according to ministers.
An undertaking to develop the technology that stops greenhouse gases in the atmosphere was made before a Edinburgh summit.
Research funding has also been announced for a carbon capture system in Aberdeenshire.
It will see carbon dioxide piped to storage sites under the North Sea.
Experts say technology is an important tool for managing climate change.
The British government was criticized in 2015 for a £ 1 billion pound competition to develop carbon capture and storage.
Power plants in Peterhead in Aberdeenshire and Drax in North Yorkshire were the last contenders for the grant.
"New industry"
Claire Perry, Energy and Clean Minister for Growth, said: "Today at this summit, Britain sets a world-leading ambition to develop and distribute carbon capture and storage technology to reduce emissions.
"It shows how resolute all countries are to unlock the potential of this game-changing technology as representatives from around the world gather here in Edinburgh today."
The Acorn project will capture about 200,000 tonnes of carbon dioxide from St Fergus Gas Terminal near Peterhead and transport it for storage to one of three depleted gas fields with existing pipelines.
It's getting £ 175,000 from the British government, with funding from the Scottish government and further European funding.
In further phases, the project can generate hydrogen from the North Sea and store the carbon dioxide, which the process creates as a byproduct. The hydrogen can then be used to heat people's homes.
Existing pipelines on land can also be used to transport CO2 for storage from heavy industry areas around Grangemouth.
Project Manager Alan James said: "Scotland can use older oil and gas assets to deliver environmental benefits, unlock CO2 transport and storage solutions for other utilization and carbon capture storage projects along the UK's east coast and in the future from Europe.
"With proper support, Acorn CCS can operate in early 2020, which will make a significant contribution to both UK and European emission reduction targets and help create a commercially viable future for CCUS investments."
"Muted progress"
The UK government said it would investigate more details next year on how it plans to develop Britain's first carbon capture, use and storage facility (CCUS).
It said it would invest £ 20m in technology in industrial areas in the UK, including Teeside and Drax.
Dr Fatih Birol of the International Energy Agency (IEA) said: "Without CCUS as part of the solution, it is virtually impossible to reach our international climate targets.
"CCUS can also improve energy security and increase economic prosperity. But until now, progress has been subdued and if this continues, the challenges in the energy sector will be infinitely greater.
Next week, the world leaders in Katowice, Poland, will gather for the 24th UN Climate Conference, where they will discuss the implementation of the Paris Agreement's goals.
The agreement commits countries to limit global temperature steps to "far below" 2C, and many consider CCS as an important way to achieve that goal.
"Background has disappeared"
Scottish Energy Minister Paul Wheelhouse said: "We believe Scotland has a unique position to implement this technology on an industrial scale.
"In addition, the ability to reuse important existing pipeline infrastructure assets already in Scotland is the most cost-effective way to expand the CCUS."
Dr Richard Dixon, Chief of Friends of the Earth Scotland, said that as Scotland's two coal power plants were now closed, "the main argument for CCS in Scotland has disappeared".
He added: "Instead of chasing something we do not need, the British government should spend its money on renewable energy, energy efficiency and energy storage, all of which give immediate reductions in carbon dioxide emissions.
"It could be a role for CCS in relation to the industry in the long run, but with fossil fuel cars being phased out and a crack down on the plastic rock we use, these carbon sources will also drop drastically over the coming decades."
[ad_2]
Source link