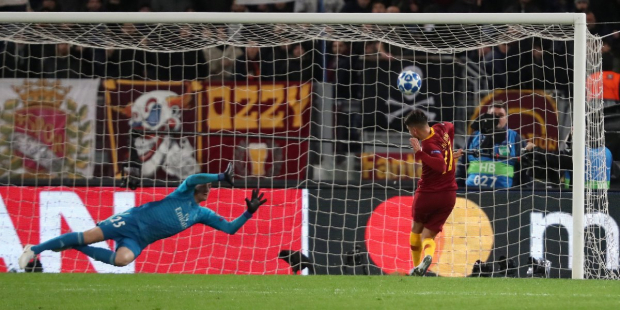 [ad_1]
UEFA Champions League 5-week games in groups E, F, G and H continued playing matches. Many teams guaranteed to leave the group while Manchester United won the home at 90 +1.
UEFA Champions League 5 weeks of excitement continued on Tuesday evening played 8 games.
At 20:55 in the match, the CSKA Moscow area Viktoria Plzen 2-1 was defeated in the two matches, while the match played in Greece Ajax, AEK 2-0 managed to finish.
The national star Cengiz Under wearing the uniform in the house in Rome defeated 2-0 Real Madrid. At the end of the first half of the match, Cengiz failed to reach a goal for the audience to be stunned. Manchester United defeated young boys in the field 90-1 1 defeat by 1-0.
In the group match, Bayern Munich and Ajax, Manchester City in Group F, Real Madrid and Rome in Group G, Juventus and Manchester United in Group H made it to the top.
Here are the collective results in the Champions League
E GROUP
AEK Athens 0-2 Ajax (Tadic 68 Tad penna, 72 Atina)
Bayern Munich 5-1 Benfica (Robben 13 G, 30, Lewandowski 36 & 51, Gedson 46 (, Ribery 77 Münih)
F GROUP
Hoffenheim 2-3 Shakhtar Donetsk (Ismaily 14 Kr, Taison 15 90, 90 + 3 Ta, Kramaric 17 Ice, Zuber 40 hem)
Lyon 2-2 Manchester City (Cornet 55 63, 81 & # 39 ;, Laporte 63 Corn, Aguero 83 -2)
G GROUP
CSKA Moscow 1-2 Viktoria Plzen (Nikola Vlasic 10 ch penna, Prochazka 56 V, Lukas Hejda 81 Moskova)
Rome 0-2 Real Madrid (Ballet 47 & Vazquez 59 -2)
H GROUP
Juventus 1-0 Valencia (Mandzukic 59 us)
Manchester United 1-0 Youngs Boys (Fellaini 90 + 1)
window.fbAsyncInit = function() { FB.init({ appId : '232148700181828', channelURL : '//t24.com.tr/channel.html', status : true, cookie : true, oauth : true, xfbml : true });
FB.getLoginStatus(function(response) { if (response.status === 'connected') { var uid = response.authResponse.userID; var accessToken = response.authResponse.accessToken; //alert("şimdi sign in ediliyor"); userLogin("facebook",response.authResponse.accessToken,"update");
} else if (response.status === 'not_authorized') { // the user is logged in to Facebook, but not connected to the app //alert("signed in but not connected "); } else { // the user isn't even logged in to Facebook. } });
FB.Event.subscribe('auth.login', function (response) { //alert("şu an giriş yapıldı. token:"+response.authResponse.accessToken); userLogin("facebook", response.authResponse.accessToken, "update"); });
FB.Event.subscribe('edge.create', function (targetUrl) { PUBLIK.trackSocial('facebook', 'like', targetUrl); });
FB.Event.subscribe('edge.remove', function (targetUrl) { PUBLIK.trackSocial('facebook', 'unlike', targetUrl); });
FB.Event.subscribe('message.send', function (targetUrl) { PUBLIK.trackSocial('facebook', 'send', targetUrl); });
//bindEventTracking(); };
(function(d){ var js, id = 'facebook-jssdk'; if (d.getElementById(id)) {return;} js = d.createElement('script'); js.id = id; js.async = true; js.src = "http://connect.facebook.net/tr_TR/all.js"; d.getElementsByTagName('head')[0].appendChild(js); }(document));
// facebook dpa audience (function(){ var _fbq = window._fbq ||(window._fbq =[]); if(!_fbq.loaded){ var fbds = document.createElement('script'); fbds.async =true; fbds.src ='//connect.facebook.net/en_US/fbds.js'; var s = document.getElementsByTagName('script')[0]; s.parentNode.insertBefore(fbds, s); _fbq.loaded =true; } _fbq.push(['addPixelId','829603620417104']); })(); window._fbq = window._fbq ||[]; window._fbq.push(['track','ViewContent',{ content_ids:[(Math.floor(Math.random() * 10) % 2) + 1], content_type:'product' }]); // facebook dpa audience done [ad_2]
Source link