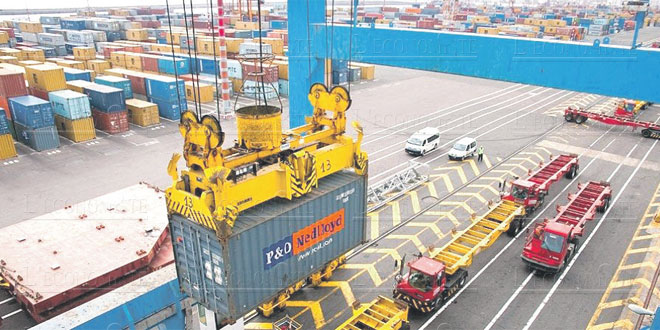 Since the start of 2011, PortNet Single Window has become an important accelerator for the integration of society and the cross-border retail chain. It currently has more than 33,800 customers and offers its dematerialized services to a community with more than 39,000 users (Ph. The Economist)
New in terms of dematerialization of foreign trade. Three conventions have just been signed on November 12 in Casablanca during the 4th edition of the annual Portnet Single Window conference for the development of a new solution for dematerialized documentary management. Three pilot banks (Attijariwafa Bank, CIH Bank and Crédit du Maroc) have signed a framework agreement with PortNet.
These operations announce the launch of the new platform [email protected] Direct. "This is one of the first in the world! This unified multi-bank and multi-user solution has to be rolled out to all banks in 2019," said Nadia Laraki, CEO of PortNet and CEO of the National Ports Agency (ANP).
He added: "This partnership is also part of the signatory's efforts for inclusive cooperation aimed at improving corporate competitiveness and business climate."
The new platform [email protected] Directly available through PortNet Single Window, is also open to companies active in import / export. It will enable both banks and PortNet users to better manage, so that they utilize end-to-end dematerialization during the documentary credit life cycle, credit cards, credit cards, credit cards as well as some non-documentary operations.
"The standardization, harmonization and composition of the treatment processes in the above-mentioned activities will have a certain impact on the efficiency, costs and processing times of all players in the ecosystem," said Nadia Laraki.
In addition, this solution will co-operate and digitally contribute to the processing and monitoring of the data and documents necessary for the execution of operations while avoiding the re-introduction of a document or seizing of a data previously provided by any part.
The efforts are high. "We witness a proven race to strengthen investments, win new markets and build partnerships and strategic alliances to take advantage of the competitive edge of service," argues. Mohamed Najib Boulif, State Secretary for Transport, at the inauguration of the 4th edition of the PortNet annual conference.
Launch of multiple services 2018
Morocco has set itself the goal of dematerializing foreign trade-related procedures by 2021. "The implementation of real-time one-stop shops and community platforms has made qualitative leaps in improving performance and competitiveness of global trade," said Jalal Benhayoun, CEO of PortNet.
In order to make the import / export supply chain practical, integrated and digital, PortNet 2018 launched several services including the implementation of the first community solution for exchange and multi-channel payment of invoices for services related to international supply chain and the generalization of exchange of control results between the Customs and Onssa services.
Another news: the technical preparation of solutions for the prominent implementation of the paperless handling of ANRT approvals, issuing and release coupons, withdrawal of port packaging and DFD.
In addition, the PortNet community, supported by the World Bank, has undertaken the extension through a new product called Trade Sense, from the platform-based services, commercial and logistical information with high added value as needed. economic operators to conduct their transactions abroad.
800 experts gathered

The annual PortNet Single Window Conference hosted over 800 national and international participants. Organized under the theme: One Stop Shop: Public and Private Community Intelligence Serving Your Integrated, Effective and Innovative Supply Chain. This meeting was initiated jointly by ANP and PortNet SA in collaboration with the Facilitation Center (CEFACT-UN) and International Port Community Systems Association (IPCSA). A concentrate of international events aimed at being a global-scale platform aimed at exchanging expert views, sharing best practices, presenting the most innovative initiatives and finding out the implementation of digitization exchange and supply chain between the various actors in port, logistics and cross-border ecosystems.
Nadia DREF
Source link