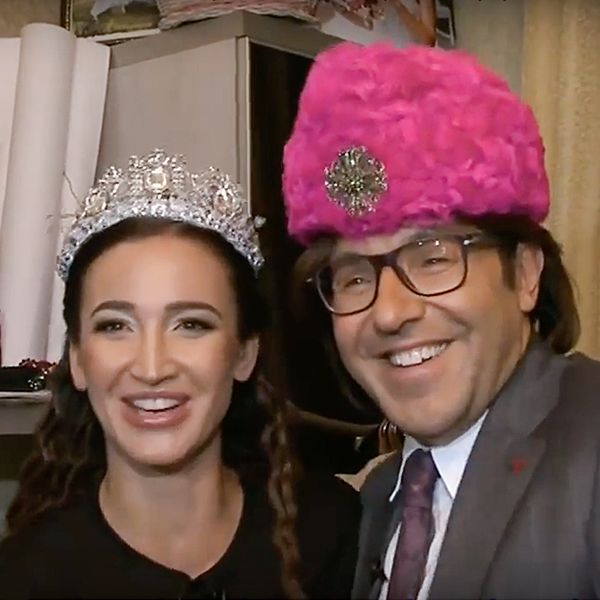 20:11, 11/15/2018
Anchor explained why a man's bathrobe hangs in his bathroom.
A few days before the great solo concert of Olga Buzova in Moscow, Andrey Malakhov invited the TV star to his live broadcast program. On the doorstep of Buzova, the host conducted a tour of her apartment and admitted that she had not allowed outside of her home earlier. Currently, the TV star rent an apartment, although he hopes to move to his own apartment soon.
Dear guest Buzova met with a Yorkshire terrier in her arms. "Hello Andrei," greeted the leading star. "Look, this is Eva." Malakhov replied that he already knows about the dog because he regularly looks at Stories Stars at Instagram. "I'm sorry, but I have no men's slippers," laughed Buzova. – I will bring hotel slippers from the tour. And shampoo. "Good, I do." It is not treated, "answered Malakhov with a laugh.
Living room
Passing the living room, Olga and Andrew led into the kitchen. "You understand that because there are no men's slippers in my apartment, you will not find borsch in the fridge?" Asked Buzova. "Soon everyone is interested in what's in your fridge," asked the moderator. As expected, only the products that a working woman could easily prepare in the singer's refrigerator: ready-to-eat food, sausages, eggs, canned honey. "Oh is the beer," said Malakhov. "Yes, that was", confirmed Buzova.
kitchen
Then Olga Andrei showed her collection of shoes, which Carrie Bradshaw himself from the cult-series "Sex and the City" could envy. "Oh yes, there's a whole museum here," said the presenter. In the Olgas dressing room, jeans occupy a peculiar place: there are more than fifty of them in the TV star, which is not surprising because this is her favorite clothes.
Collection of shoes Olga Buzova
In the bathroom, Olga made a sensational statement: in a luxurious jacuzzi never lies a TV star! A man's bathrobe hanged in the bathroom with a portrait of Buzova himself and Olga Superstar Olga was presented by Philip Kirkorov. She carries it with joy herself. Also in the bathroom on the star you can see three toothbrushes. According to Buzova, her sister Anna and her mother often come to her Irina Aleksandrovnafor which she always has bathroom accessories.
Olga Buzova never sleeps in the jacuzzi
The star's apartment has a dressing room where she holds costumes for performances and gifts from fans: characters, letters, postcards with messy messages. Especially often, according to Olga, she is presented with kronor. In one of the interviews, Buzova said she took and gently held all the presents and souvenirs her fans give after the concert. And today everyone could make sure that these are not just words: all the cabinets in the singer's house are filled with memorable gifts.
Make-up room
Fan Gifts
Finally, Malakhov was accepted as the holy of holy apartments: one bedroom. It turned out that a small ladder leaned against Olga's bed so that her dogs Chelsea and Eva could go to bed with the hostess. "I go now and look at all this and in my soul just the feeling that you have to go through to spread your wings now and wherever you are. This is most deserving of respect, as many people break down, go out of the distance , can not believe in themselves, and this fire is burning in you and this is very important because it is the biggest example you give to other women, "acknowledged Malakhov.
Awards Olga Buzovoy
Olga Buzova gave Andrei Malakhov a tour of her apartment

Remember, in the Live Broadcast program, Olga not only showed her audience his apartment but also told her her intention to take a daughter from a orphanage, remembering that she began to dance with Dima Bilan and is still his fan, and also met his first love Sergey Tyukonko. The man said he had moved to Moscow, married and now has three children. Sergey also acknowledged that he once had taken Buzov to the reality show "Dom-2".
Add it soon as soon as fans of Olga Buzovoy will be able to enjoy a large-scale concert of a star in St. Petersburg. On December 12, Buzova will perform at Ice Palace SCC. For a big show, a special scene will be built. The concert for the concert will be required master of his craft and friend of Olga Alexey Golubevwho shot for the songs on her hits "Get used to", "Get halves" and "Wi-Fi".
See also:
Olga Buzova started his career in diving with Dima Bilan
Olga Buzova met her first love in the "Live" program