[ad_1]
Northland DHB was aware of a "very scary load" of meningitis six months before it warned the public, showing an internal note.
On Tuesday, Northland DHB prepared a media release that warns the public to be wary of a "significant increase" of Group W meningococcal disease in the region.
However, in May, clinical microbiologist David Hammer had sent a letter to DHB's staff alert on potential cases.
In the note, Hammer said: "We have not previously had a group of W Tribes in Northland, but we have had two unrelated cases within a week of this year. Sequence type awaits, but I predict that the result will be ST-11."
READ MORE:
* Two new jabs possible in the light of new type of meningococci to worry about
* Teenager who died from meningococcal disease, remembered as "helpful" classmate
* Dies suspected meningococcal disease after Auckland youth camp
* Four cases of meningococcus, including a death, registered in Taranaki
* Expert offers advice on spotting meningococcal symptoms, but says there is no need for panic
The note said there had been a "significant increase" in meningococcal W ST-11 cases across New Zealand.
"As meningococcal disease stops in the winter, I suspect we'll see a whole lot more cases soon."
Already this year, 24 cases have been confirmed and six patients have died. Three of them were in Northland.
Hammers memo noted that doctoral behavior had a very low risk of infection, but said that the disease tended to "spread rapidly even though areas where younger people gather, such as schools, hostels, army barracks and university camps".
He continued to encourage colleagues to have their children over nine months vaccinated with one of the newer meningococcal vaccines, "to reduce their chances of acquiring an infection from this very terrible strain of meningococci."
On October 20, Northland's teenager Dion Hodder was on a St John Youth training camp on Motutapu Island when he became ill with meningococcal disease.
The 16-year-old moved to Auckland City Hospital where he received emergency medical treatment but died just before midnight.
His mother Todd Horton and stepfather Lance Horton said that Dion had died from the W-tribe.
The couple had not been aware of the internal memorandum or the increase in cases.
Dion's mom said, "it's hard to know how to really feel it."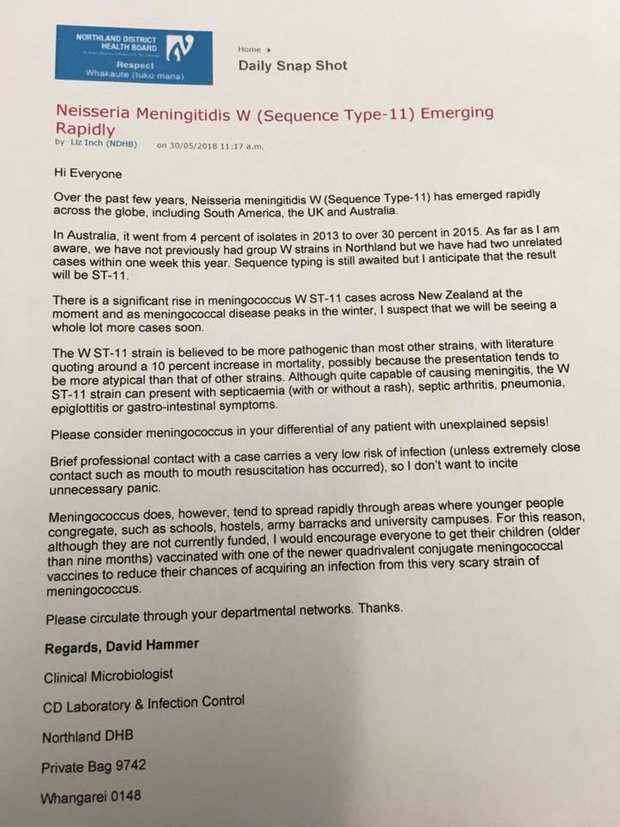 "It does not make much difference for us right now," said Horton.
"Meningokock is one of those diseases that have been around for a long time and everyone knows signs and symptoms but I think we just need to be aware that with these newer strains some of these signs and symptoms are not as visible and are not as prominent."
"I would hate thinking of other parents who go through what we are going through right now."
Dion's stepfather said he recently received a phone call from a general nurse who had vaccinated his family and was told that the vaccination "really needed" to be available to "risky people" – something they agreed.
The most risky were toddlers and adolescents between the ages of 15 and 19, he said.
"That vaccine should be made to all of these [people], Said Horton.
When asked if DHB would do more to raise awareness about the tribe, Horton said "hell yes".
"It does not present the same as the other tribes – it does not present at all as meningococci until it's too late.
"When you actually get the symptoms it's too late."
Northland DHB has been contacted for comment.
[ad_2]
Source link