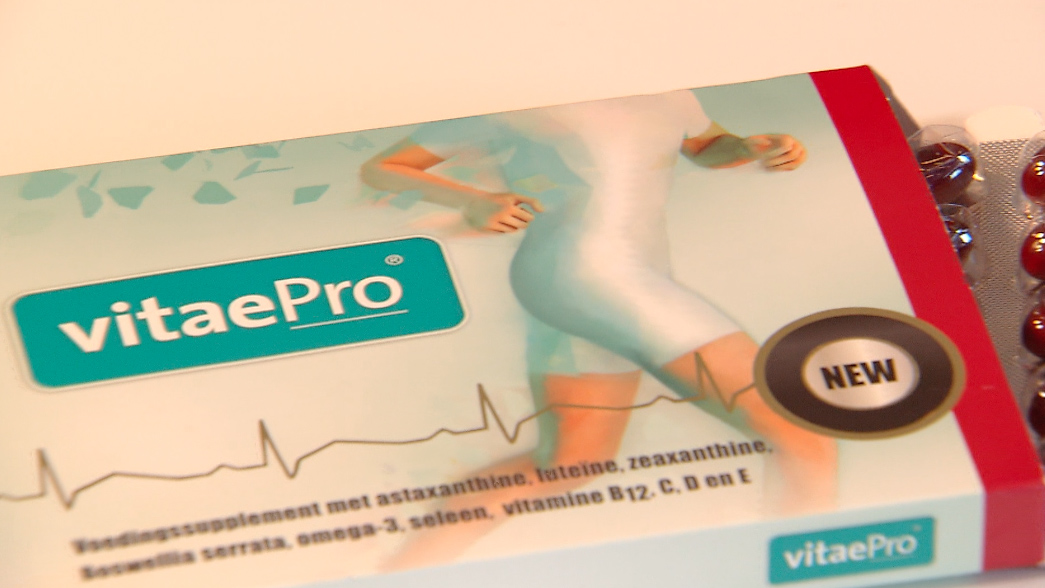 Many people take supplements to increase their resistance. A radar survey shows that two thirds of more than 20,000 respondents have used a dietary supplement and that more than half (56%) currently do so. But do you really need these supplements? Or are they only useful in certain circumstances?
Take, for example, the dietary supplement VitaePro. The advertisement of this product is regularly shown on television. If we are to believe Skater and Ambassador for VitaePro Erben Wennemars, take this product if you care about your muscles. The pills are not sold in stores, but you must subscribe. For this you pay almost forty euros per shipment, which is equivalent to sixty tablets. VitaePro recommends one to two capsules per day on the package.
Joke is a healthy woman from Lemmer who does everything she can to stay as healthy as possible. But at the beginning of the year, she suddenly notices that she is getting less fit. When she saw the VitaePro ad with Erben Wennemars, she ordered the product. "I'm going to think, I want to think this product helps my health," Joke said.
Wonder pill?
General practitioner Tamara de Weijer believes that a lot of claims are made on the VitaePro website. 'It's actually a kind of miracle pill when you read the website. A vitamin supplement, in any form, is not a miracle pill. If you eat unhealthily and barely exercise, such a supplement will do nothing. I am afraid that people will abandon fruits and vegetables when they take such a supplement. But a pill is never a substitute for a healthy diet. '
David van Bodegom, professor of vitality at Leyden Academy, agrees with Tamara de Weijer. According to him, the solution to getting healthy and fit is not to take supplements. "I think it's better to spend your money on a pair of sports shoes and on greengrocers than on this type of subscription," says Van Bodegom.
Renger Witkamp, ​​professor of nutrition and pharmacology, is generally critical of dietary supplements, but is not against it either. They can be used in certain groups. Witkamp's response to VitaePro is: 'In my opinion, pure money beats. And a smart marketing concept that attracts customers with a website that looks smart but has nothing to offer. It is just a multivitamin and you can simply buy it much cheaper from, for example, Kruidvat or Etos. '
Exercise and eat vegetables to grow old healthy
Van Bodegom: 'The VitaePro ad suggests you can get healthy old with this pill. But to get old healthy, you really have to get started. Go out to exercise and eat healthy. '
Tamara de Weijer looked at the composition of VitaePro for us and came to the conclusion that most ingredients are also found in food. Vitamin C is also found in red peppers, Brussels sprouts and broccoli. Of course also in oranges and lemons, berries and strawberries. There are so many products that you really do not need any pills, says the doctor.
To keep your heart healthy, Vitae Pro has also added omega 3, aka fish oil, to its tablet. Van Bodegom: 'Fish oil has a positive effect on the heart. This is why it is also recommended to eat fish once a week, preferably oily fish. If you eat fish once a week, you do not need to take extra fish oil. '
A striking ingredient in Vitae Pro is boswellia serrata, an Indian incense extract. Tamara de Weijer: 'Boswelia serrata does not occur naturally in our diet. I do not think it is harmful to take, but research is still ongoing on how the claim to "maintain lean muscle" works. There is a disclaimer, but I really have great difficulty with it, no one reads it. You read the front of the package which says better resistance, better legs, better muscles. People do not read the fine print at all. '
Anyone who thinks when it comes to supplements "it does not benefit, it does not hurt", is disappointed according to De Weijer. For example, it has already been shown that an excess of vitamin B6 can cause nerve damage.
Vitamin D against coronavirus
There are supplements that have been shown to be needed by some people. Vitamin B12 for people who do not eat animal fat and vitamin D are recommended for people who spend some time outside and according to experts, vitamin D is also effective against the coronavirus.
According to Van Bodegom, you can spend your money better on healthy food and you can actually ignore nutritional supplements. You have to take a walk outside every day. According to official guidelines, this is half an hour. You can also sit on the couch for 23 and a half hours. It is also important to eat healthy foods, which are often also tastier.
Reactions VitaePro and Erben Wennemars
VitaePro and Erben Wennemars have responded to the article on dietary supplements. You will find the complete answers via the links below.
Survey radar on dietary supplements
You can find the complete results of our research on dietary supplements via the link below.
Survey: Anyone have supplements?
Source link