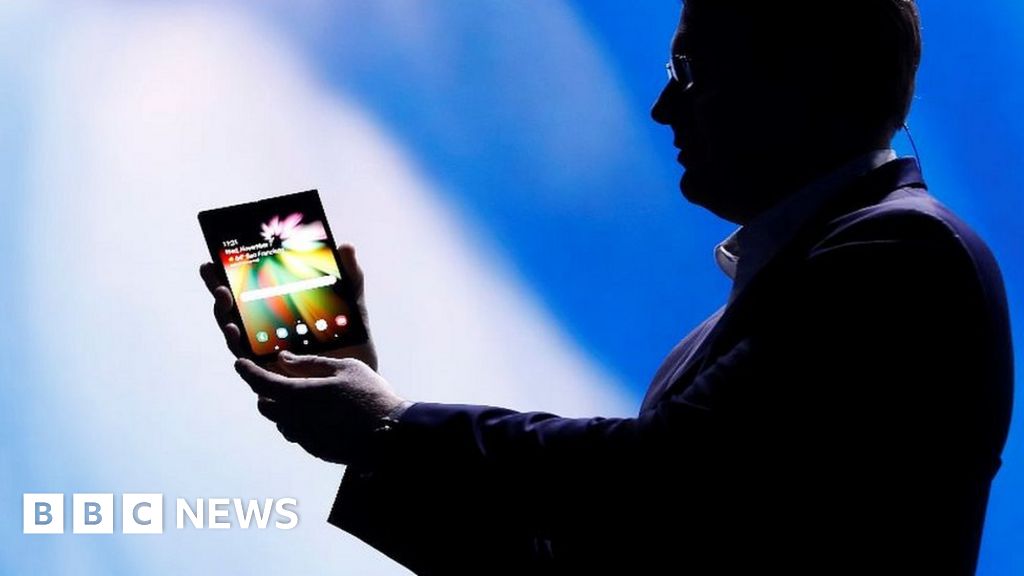 [ad_1]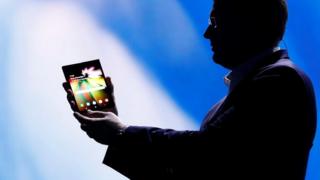 Samsung has revealed a collapsible handset at an event in San Francisco.
It described its Infinity Flex Display as the "foundation for tomorrow's smartphone" and said it was supposed to start production within a few months.
As it evolves, the device resembles a 7.3 inch (18.5 cm) tablet. When it is closed, a separate smaller "cover display" on the other side of the handset will be used.
Samsung has retired the concept for more than five years and had appealed with Huawei to show up a device first.
However, both were upstaged a week ago when the little known start Royole revealed a collapsible own phone.
Unlike Royol's FlexPai, Samsung hidden the final appearance of its device. It put it in a case to stop revealing the design for a later event.
It did not reveal how it will notice the phone.
However, it revealed that the upcoming handset could run three apps at once.
Justin Denison, the executive who revealed the handset, noted that when you waved your handset, "nicely inside" a jacket pocket.
Unlike FlexPai, the two sides of Samsung unit are flat when closed. But this is at the expense of there being noticeable breaks in its feature, at least on the prototype demoed.
Ships from Samsung smartphones were 13.4% lower in the quarter July to September than for the same period last year, according to the market research company IDC.
Although the sector as a whole declined during the twelve months, the South Korean company has continued to underperform, with a market share falling from 22.1% to 20.3%.
But analysts say that a flexible phone has the potential to strengthen Samsung brand and increase interest in its broader family of devices.
"We have already had squeezable, swivel, clamshell and even folding phones," commented IDC's Marta Pinto.
"Differentiation is super important. Samsung's smart phone sales are decreasing, as it faces severe competition from Huawei and other Chinese brands.
"If it can give a new and very interesting device to the market, there may be a chance to regain speed and return to growth."
Google is also a developmental event of itself for Android programmers.
One of its technical managers announced that it would soon support operating system support to allow other manufacturers to create their own mobile phones.
It also tweeted an animation of the concept in action.
IBM Simon: The first mobile phone offers a touchscreen user interface – but the battery lasted only one hour.
Siemens S10: The first handset with a color display – although only red, green, blue and white can be displayed.
LG Prada: The handset debuted a capacitive touch screen – detects fingertips by changes in the display's electrical field instead of pressure.
iPhone: Apple utilized "multi-touch", discovering multiple focal points – enabling pin-to-zoom and other interactions.
Nokia N85: First phone with an OLED (organic LED) display, to show deeper black and better contrast.
Samsung Galaxy Note: Although not the first "phablet", the handset showed that there was a demand for a 5-inch display, even though it was "comically huge".
LG G Flex: The curved design was tipped like a gimmick, but points the way to future true "bendy" phones.
Sharp Aquos Crystal: The phone's "uneven" look envisioned the current trend to keep the framing to a minimum.
Samsung Galaxy Note Edge: Samsung's first handset for inserting the screen over one side, used extra space for messages and applets.
Sony Xperia Z5 Premium: Smartphone premiere a 4K screen before it was easy to get such ultra high definition mobile content.
Essential Phone: The startup enabled Apple to handle a camera hook, which allowed the rest of the screen to extend upwards.
Royole FlexPai: The California-based startup surprised the industry when it unveiled "the world's first folding phone" last month.
[ad_2]
Source link