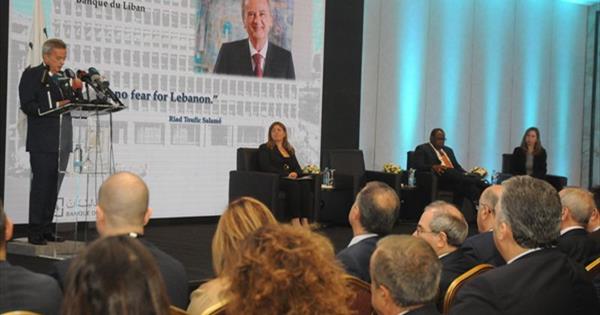 [ad_1]
The Banque du Liban Conformity Unit organized the "Compliance Day 2018" at the Phenicia Hotel under the patronage and presence of the Governor of the Banque du Liban Riad Salameh and attended by the heads of the boards of Lebanese banks and their board members and compliance officials.
"The Bank's commitment to complying with international standards and applicable laws and regulations, in particular in combating corruption, data protection, transparency in international exchange of tax information, combating money laundering and terrorist financing, complies with the key recommendations of MENA Financial Action Task Force Africa to fight money laundering and terrorist financing. "
He pointed out that "the 2005 Basel Bank Supervisory Guidelines recommended banks to implement effective rules and procedures for compliance, and also led managers to take corrective action in which failures in compliance procedures are identified."
He added: "In Lebanon, the main objective of leading us as central bank to establish a settlement agreement for banks and financial institutions in 2013 is to mitigate the risk of non-compliance with local and international laws and regulations. We have also been assured through our circular , Conformity, regardless of nature, is directly subject to management. "
He stressed that Lebanon Bank believes that "the main efforts of the Compliance Directorate are to facilitate the implementation of internal control to protect the institution from various risks, monitor the operations of the control process and report identified gaps and make recommendations to follow the latest international team updates and related best practice, advice to ensure the moral behavior of banks and their employees'.
He appealed to the security of "banks and financial institutions to be proactive to highlight compliance compliance for the administration and awareness within their institutions in this subject, and should not hesitate to apply laws, ordinances and best practice."
conference Documents
The conference was opened with a speech by the Compliance Unit of Banque du Liban, Karen Chertouni, which emphasized the importance of the independence function of banks in charge of overseeing banks' compliance with laws and regulations and adopting best practice to neutralize banks from liability risks.
The Director of the European Bank for Reconstruction and Development (EBRD) in Lebanon, Gritchen Perry, made three recommendations on transparency regarding the rights holder's ownership of the G20 leaders, namely to ensure the stability of the rights owner's economic property system including DNFBP's and professional legal privileges. And the delegation of public records, the latest is the preparation of rules for the exchange of information.
Subsequent to the Vice President of the Federal Reserve Bank of New York and the Director of Conformity, Martin Grant, who spoke of three important observations of the success of the agreement function: knowledge of laws and regulations, pride in designing compliance rules that enable the bank to perform their functions within a wide margin of freedom and the right decision in small daily problems. "
[ad_2]
Source link