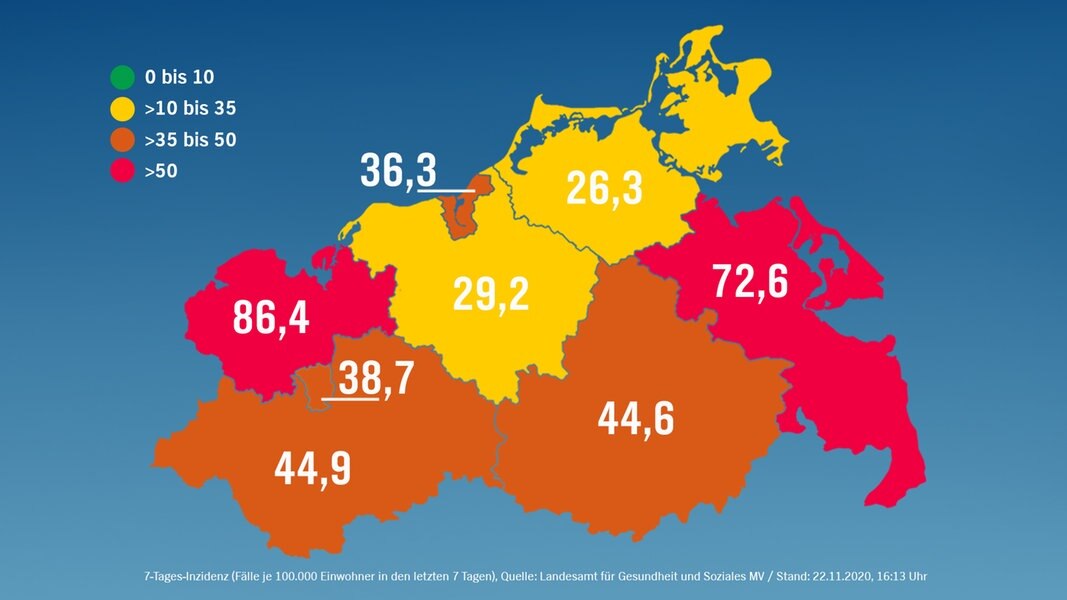 Status: 2020-11-22 16:46
In Mecklenburg-Western Pomerania, authorities have registered 35 new coronary infections since Saturday. The districts of Western Pomerania-Greifswald and northwestern Mecklenburg are still considered a risk area.
The number of registered new coronary infections in Mecklenburg-Western Pomerania increased by 35 cases from Saturday to Sunday (from Sunday 16:13). The day before came 91 new cases. However, there are significantly fewer tests on Sundays and public holidays than during the week. Overall have The State Office for Health and Social Affairs (LAGuS) reported 5,192 infections in the country since March. According to According to the Robert Koch Institute (RKI), 3,790 (+96) of the people who tested positive in Mecklenburg-Western Pomerania have recovered from Covid 19 disease. The death toll in the Northeast remained 53. Compared to other federal states, Mecklenburg-Western Pomerania has continued the lowest number of cases.
Currently 25 people with Covid-19 in the hospital
According to the information, 430 (+3) people have been or have been treated in clinics since the outbreak of the coronary pandemic, 51 (+0) of them in intensive care units. According to the intensive care unit, there are currently 25 Covid-19 patients in hospitals in Mecklenburg-Western Pomerania, of which 18 must be ventilated. The register shows 519 occupied and 198 free intensive care beds for Mecklenburg-Western Pomerania (as of Sunday 15:19).
Most cases continue in the Vorpommern-Greifswald district
According to LAGuS, most of those infected were or are in the West Pomerania-Greifswald district with 1,063 (+6) cases to date. In the Mecklenburg Lake District there are a total of 744 (+7) cases. To date, there have been 703 (+4) infections in the Ludwigslust-Parchim district. 667 (+2) infections were reported in the district of Vorpommern-Rügen. LAGuS reports 596 (+7) cases for the Hanseatic city of Rostock. In the Northwest Mecklenburg district, authorities registered 574 (+6) people who were likely to be infected with the coronavirus. The lowest figures are in the Rostock district with 501 (+3) and the capital Schwerin with 344 (+0) cases.
The nationwide incidence is 46.8
Two districts in the north-eastern part exceed the critical incidence value 50 and are therefore considered a risk area. In the Northwest Mecklenburg district, the value is 86.4. It is followed by the district of Vorpommern-Greifswald with a seven-day occurrence of 72.6. In Ludwigslust-Parchim the value is currently 44.9 and in the lake area Mecklenburg 44.6. For the capital Schwerin, it is currently 38.7. The incidence value in the district Vorpommern-Rügen was stated as 26.3. In the Hanseatic city of Rostock it is 36.3 and in the district of Rostock it is 29.2. Nationally, the incidence value is 46.8 infections per 100,000 inhabitants within a week.
Corona: You should know that
Source link