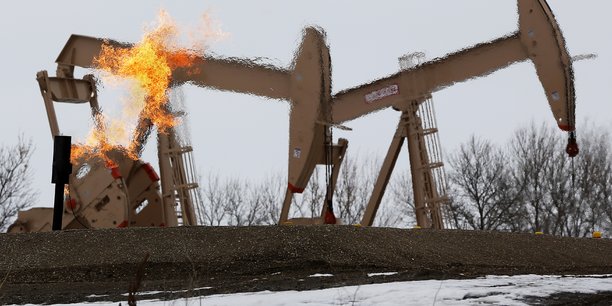 Oil prices rise on Monday in Asia following the Saudi announcement of a reduction in production of 500,000 barrels a day due to the fear of excess supply and the fall in prices for a month.
About 0520 GMT, the Light Sweet Crude (WTI) dish, the United States raw reference for delivery in December, received 70 cents for $ 60.89 in electronic exchanges in Asia. Brent crude, a European reference value for delivery in January, was worth $ 1.13 to $ 71.31.
After a four-year increase, the oil collapses 20% in a month
Oil prices lost one-fifth (20%) of their value for one month after rising in early October to a four-year high. Autumn is a combination of factors, between the fear of weak demand and increasing global production.
This year, the world's largest crude oil producer under pressure from the United States and other consumer countries, who wanted a market rebalancing to offset the decline in Iran's supply of US sanctions, increased production to around 1 million bpd more.
However, after Washington announced a derogation from these sanctions in favor of several Iranian client countries, investors are now afraid of over-offer, especially with a slower Chinese demand that has benefited from the decline in stock prices. oil.
For the record, the price fell on Brent on Friday below the threshold of $ 70 per barrel for the first time since April when he had exceeded $ 86 on October 3rd. In terms of WTI, it has gone down since last month's peak to more than 20%, which defines a "bear market", a technical signal worrying.
Saudi Arabia first (and only) to respond
Larger oil producers said Sunday that the global supply of raw next year would surpass demand and demanded "new strategies" to be assumed based on production adjustments.
This joint statement was issued after a meeting in Abu Dhabi in member countries of OPEC (Organization of Petroleum Exporting Countries) and non-cartel members, at a time when the black gold price dreaded a collapse of prices, as well as 2014.
Saudi Arabian energy minister Khaled al-Faleh has announced that his country, the world's largest oil exporter, will be shut down by the United States this year will reduce its exports by 500,000 barrels per day (bpd). ) in December. This decision amounts to a decrease of about 0.5% in the world's oil supply.
OPEC disunited in the face of overabundance risks
On sunday, in Abu Dhabi, Khalid al Falih declared at a meeting with the oil market monitoring committee as collecting OPEC member states or outside the cartel:
"We have increased production in response to demand"
He added:
"I will inform you that the December forecast is 500,000 barrels lower than in November, we experience a moderation that is partly linked to the end of the year and partly to the maintenance business, (…) so we will deliver less in December than we do in November. "
Reuters Agency had previously learned Sunday from two sources that Saudi Arabia discussed a proposal that would likely lead to a reduction of 1 million barrels per day of the supply of OPEC and its allies.
The sources say that such an agreement would be due, inter alia, to the level of Iranian exports after the entry into force of US sanctions and exemptions granted to several countries, including China and India. Russia is committed to adapting to a new agreement to restrict production.
OPEC faces the United States, becoming the world's leading producer
"Saudi Arabia has been proactive to announce a decline in production of 0.5 million barrels per day in December" said Stephen Innes, an analyst at Oanda. For this analyst, OPEC must also adapt to the continued rise in oil production in the United States, which had a record of 11.6 million bpd and could exceed 12 million next year.
(With Reuters and AFP)