[ad_1]
Healthcare staff in Uganda have begun vaccinating high-risk health personnel against the fatal Ebola virus infection this week. This is the first time a vaccination operation has started before the current outbreak.
This caution is taken because health officials are worried that the infection will spread in the country from the boundaries shared with the Democratic Republic of Congo. Currently, the outbreak in the Democratic Republic of Congo is the worst. Fear of transmission of infection across borders increases with armed conflicts in the region, officials say.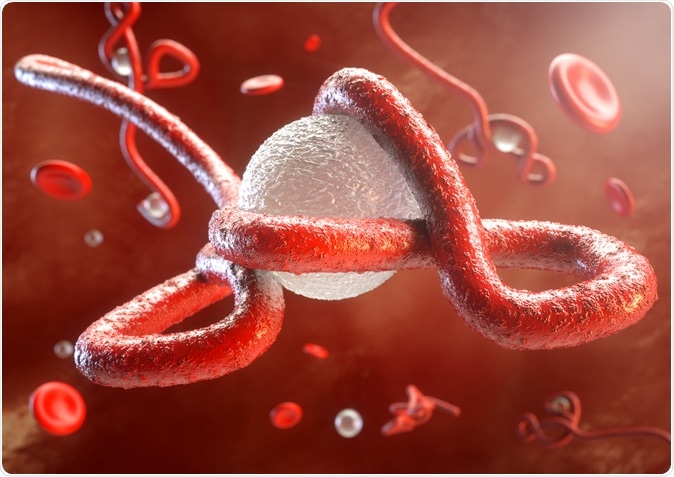 Ebola virus attacks the immune system's illustration: Image Credit: Crevis / Shutterstock
In the DRC to-day, this season around 300 cases of Ebola have been suspected of 265 confirmed cases of the disease. The World Health Organization (WHO) report says that so far the infection has killed 151 people in the country. In a statement, WHO says: "To vaccinate frontline health workers against Ebola virus diseases, even before Uganda detects a single case, the health authorities are careful to learn bitter lessons from previous eruptions."
The vaccine administered is still experimental but has proven to be protective in the clinical trials. It will only be administered to approximately 2000 first contact healthcare professionals working close to the Democratic Republic of Congo in northern Kivu province, says the WHO and would not be available to the public.
"It is highly likely that Uganda can import Ebola viral diseases from the Democratic Republic of Congo in view of the proximity of the current epicenter, the high population movements due to trade, social-cultural relations and easy access to health care in Uganda," said the WHO. The individuals in DRC who have been in contact with an Ebola patient have been vaccinated and those who have contact with these contacts have also been vaccinated. This is called "ring vaccination strategy" and is an effective method of eradicating highly contagious infectious diseases, officials say.
Yonas Tegegn Woldemariam, WHO's representative for Uganda, said: "In the past [Ebola] Outbreaks, Uganda lost health workers, including the famous Dr. Matthew Lukwiya, who cared for patients. Scientists believe that such invaluable lives would have been afraid if a vaccine had existed then. "
Jane Aceng, Uganda's Minister of Health in a statement added, "The general health risk of transboundary transfer of Ebola to Uganda [from DRC] was considered very high at national level. The affected areas in the Democratic Republic of Congo [North Kivu and Ituri provinces] is located about 100 km from Uganda border areas. An undiagnosed Ebola patient could present a health facility in Uganda for medical care. This context means that care and frontline workers in Uganda are in danger of being in contact with one [Ebola] CASE."
Ebola is a fatal viral infection discovered and identified in 1976. Since then, there have been regular outbreaks in Central and West African countries. Uganda was affected in 2000 and 2001, where the infection killed 261 and infected 574 people. The infection killed 11,000 in Sierra Leone, Liberia and Guinea, and infected 28,000 during the 2014-2016 period.
The infection can kill 20 to 70 percent of those infected with the virus strain. Once infected, only wire is available supportive therapy. There are some experimental antibody-based therapies tested in the treatment of the disease. Some of these combinations include ZMapp, REGN-EB3, the antiviral drug remedivir and one-antibody drug called mAb114.
The latest vaccine to be administered has been developed by Merck and is not yet licensed.
[ad_2]
Source link