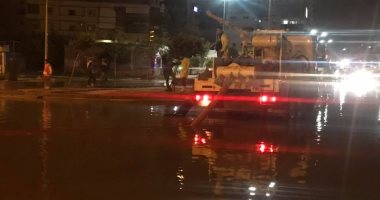 In the western part of Alexandria there were large concentrations of rainwater that affected the governor and led to an increase in the level of water in the main streets and the obstacles of traffic and pedestrians.
The areas of Ajami, in particular the Hanovil entrance, complained that the main streets were closed with rainwater, which prevented the movement and paralyzed traffic and sent the people to the emergency department of Alexandria Governorate to drain water and open the road.
Manal Gamal Mustapha from Hannoville said the Hanovil entrance was completely closed due to the accumulation of water and its high level on the main street, which prevented the traffic from bypassers and the water leaked to shops and houses on the ground floor.
For his part, General Director Mahmoud Nafie, responsible for the Sanitation Company in Alexandria, said in special statements for the "seventh day" that the present nucleus is the largest nucleus of Alexandria since the beginning of the winter, where the amount of rain is 45 millimeters a day, which is very large quantities, the sewage system in the Agami area can be accommodated and points out that the drainage system in the Ajami area has been inadequate since its establishment, which is reflected in the difficulty of rainwater drainage.
Major General Mahmoud Nafie confirmed that the company was led by a large number of vacuum cars and that the order was checked and the main streets were opened. Residents are now informed about the accumulation and accumulation of rainwater in the side streets.
Dr Abdel Aziz Qanswa, Governor of Alexandria, General Secretary Hamdi El-Hashash, Deputy General Secretary of the Governor, made an inspection trip in Gharb, Ajami and Amriya district. The first was to follow up the work of cleaning and sucking water pools in the neighborhood, Mahmoud Nafie, Chairman of the Alexandria Drainage Company, Director General Hisham Kamal, Head of Gharb District, Ala Yousef, Head of the Agami District and England. Hanafi Mohamed Hanafi,
The Assistant Secretary of the Amiriya district inspected the first of the activities to clear the rainwater pools in 23.5 km of the Jarari area in the desert, where water development occurred due to the area being exposed to heavy rain since yesterday. The work was done by the Arabs from the neighborhood, the sanitation company and the drinking water company. Traffic through the desert road after completion of purification.
In the western district, assistant secretaries passed through the work of clearing the rainwater pools, following up the filling work and routing the digging of the Hawis Bridge and following the cutting and trimming of trees on Al-Max Street and continuing Ajami, the work of clearing rainwater from the triangular compounds.
The governor of Alexandria has increased the level of preparedness and emergency at the level of the neighborhood to meet expectations in forecasts for models and meteorological forecasts, pointing out that there was heavy rain on Alexandria.