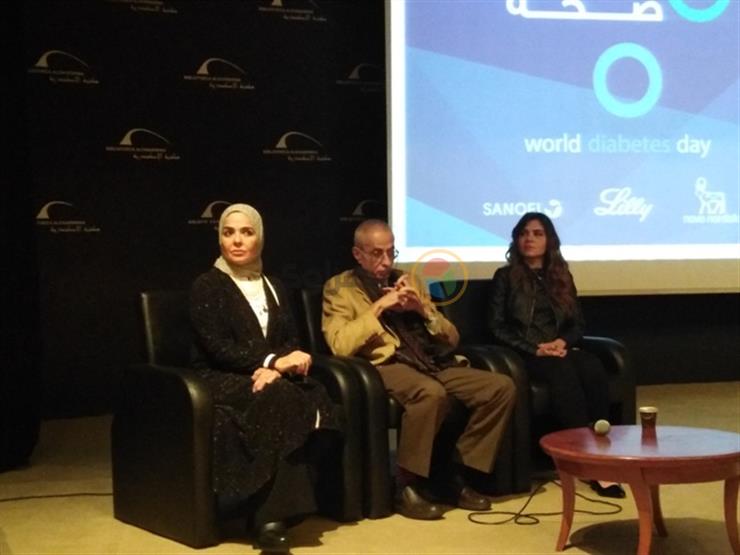 08:45


Thursday, November 22, 2018

Alexandria – Mohamed El Badry:
Dr. Fahmi Emara, President of the Egyptian Diabetes and Endocrine Foundation, said that a high proportion of kidney failure is caused by diabetes and points out that there are future signs of pre-emergence prevention of disease for about 7 years.
This came during a seminar organized by the foundation at Bibliotheca Alexandrina on Thursday to raise awareness about the disease and conduct a free survey of the virus and measurements of sugar and pressure within the presidential campaign 100 million health in the presence of Dr. Khalifa Abdullah, Professor of Internal Medicine and Sugar at Alexandria University and Dr Yehia Ghanem Member of the National Council of Sugar and Dr. Reham Director of Campaign 100 Health, Dr. Jalal Al-Shishini, Deputy Campaign Director, Mona Abdel Ghani and Nutritionist Sally Fouad.
He added: "Among the symptoms is the emergence of precise urine albumin, a sign of diabetes mellitus disease failure years ago and needs to be addressed. Pointing to the National Presidential Campaign was the purpose of the C virus, but was also the task of detecting early sugar.
Dr. Al-Khalifa Abdullah, Professor of Internal Medicine and Sugar at Alexandria University, stressed the need to control the risk factors that lead to complications, namely cholesterol, fat, stress and smoking, and notes that cholesterol is the major risk factor for diabetes and 70% of patients do not investigate themselves.
He added that measuring sugar is not the most dangerous for patients, pointing out that the goal of treating sugar is to reduce the complications accompanying the disease and not cure the disease itself.
The artist Mona Abdul Ghani said that the Egyptian mothers should now be aware of the correct nutrition system, which in turn is transmitted to their children, including the impact of society as a whole, and notes that the media also play an important role in educating citizens about proper nutrition, About healthy food culture to avoid communicable diseases. There is now a general awareness of healthy food culture to avoid contagious diseases.
For her part, the nutritionist Sally Fouad warned, the seriousness of the circulation of information error information and food systems through the pages of social networking, emphasizing the importance of using specialists to study the cases before using treatment recipes circulating.
Regarding the actions to be taken by the diabetic patient to overcome the disease, Fouad emphasized the need to observe the level of sugar, cholesterol and fat in the blood regularly and regularly with attention to nutrients and control body weight and make it consistent with the length and exercise of all kinds.
She explained that the lack of regular treatment or negligence and ruthlessness of the situation can lead to high blood sugar levels up to dangerous levels above 500 mg with acetone "acidity of blood", which is very dangerous.
Source link