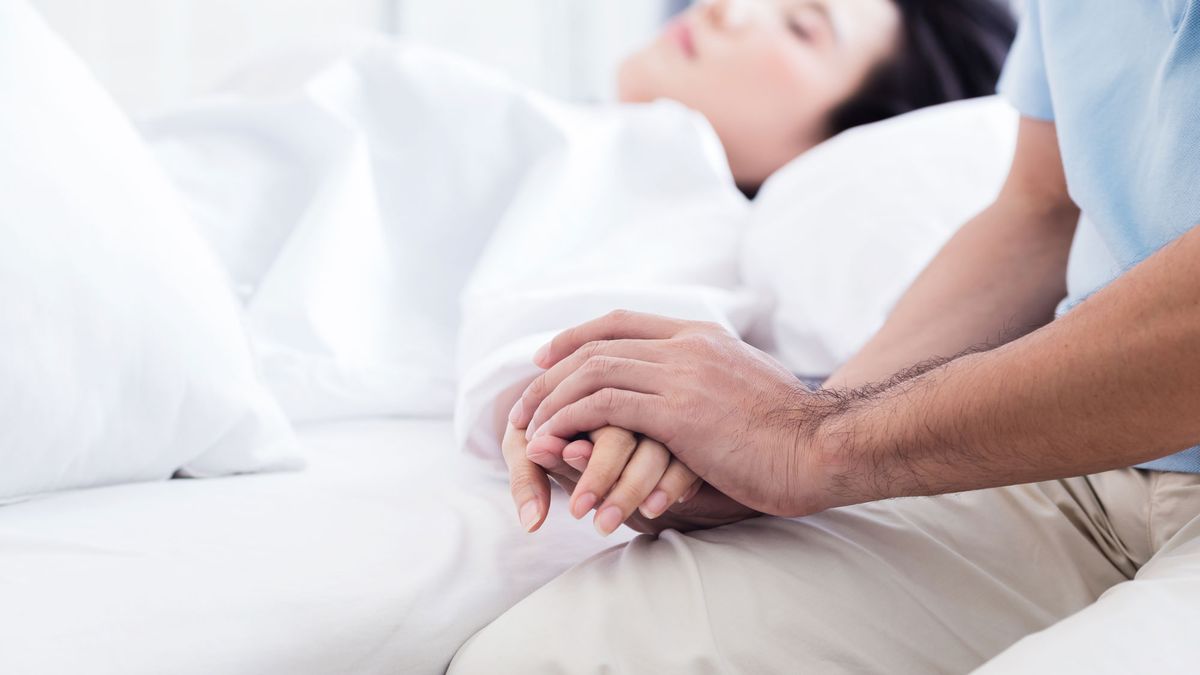 [ad_1]
As the wife of an evangelical pastor, Ruth Šormová (54) often moved around the republic. During her work in Soběslav, she founded Diakonia Rolnička, which helps children and adults with mental disabilities. After moving to Nové Město na Moravě, she ran the non-profit company Portimo to help children and young people. He has three adopted children. Her current role as Home Hospice Director, Cesta domů, is only a logical result of her lifelong journey.
The way home – an appropriate name for an organization that helps people leave the hospital and spend the last days or hours at home with family, friends. Why is it not a matter of course and how are the last moments? Ruth Šormová and I also talked about it.
For the past two years, you have been the head of Home Hospice Cesta domů, which accompanies people at the end of their lives. What led you to this – was it a random choice, or were you interested in this topic before?

When my family and I decided to return to Prague after thirty in 2018, I looked around where I would go professionally. I felt the way home for a long time, but more indirectly, even though I was interested in the subject of hospice and palliative care. I saw it with respect, because it is a well-known non-profit organization that has taken on a difficult subject and provides high-quality health and social services to people at the end of life – adults, children and their loved ones. Just as we were moving, the board announced a selection process for the director, so I applied and succeeded.
Your entire career includes working for people with various disabilities, whether it is medical or social. Do you think that the dying are disadvantaged?

The problem is rather that the subject of dying is largely taboo and that it is changing very slowly. We talk a little about the end of life, and when we want, we often have no one with whom. While we are planning everything around the birth, we would rather postpone death. At the same time, the choice is also important when you die – everyone should have the right to choose as far as possible what they want and what they definitely do not want. So if there is a downside, it is exactly what we have tried to live according to our ideas and desires our whole lives, but at the end of life we ​​often do not have this opportunity.
According to surveys, most people would like to die at home, but few do. Why?

Yes, that's right – the data suggests that eight out of ten people would like to die at home, but in reality the situation is the opposite. And why? There are a number of reasons: many do not even know the possibility of help or can not imagine that it could be handled. Worrying about a person in the final stages of the disease can be very demanding and exhausting, but there are support and services that can be used. If successful, this marginal and difficult situation can in a way be a valuable time and opportunity.
How does the road home help families and the dying?

We run mobile specialized palliative care, we are available to patients 24 hours a day, 7 days a week. In fact, we can bring everything that hospital care offers to their homes to relieve them of pain, shortness of breath or anxiety. We also offer advice, rental of equipment or help services for fields and beds. We also have a support team consisting of therapists and psychologists, who also treat survivors. The counseling center has a nationwide scope, we offer direct care to adults in the capital Prague and we also go to children in central Bohemia.
The second, no less important pillar on the way home is enlightenment. We publish books, run a professional library and charity shops. We spend a lot of time educating professionals and lay people, we discuss in schools, trainees come to us, we communicate in the media and on portals Road home, Dying or My death.
It is therefore a palliative care, which not only consists of an attempt to ensure that the patient does not suffer from pain but also to maintain his dignity until the last moment. And you also help the dying environment to deal with the situation. How do you work with doctors in this?
It is quite varied. General palliative care can follow the patient for a long time, not just in the last phase of the disease, and in fact, it can be provided by any doctor. Many offer it naturally and brilliantly, while others are hindered by fear or other obstacles. The specialized palliative care that we provide on the way home only applies to the terminal phase of the disease and follows on and complements the general one.
How do patients come to you and how long can your help last?

The median care for patients in our home is relatively short and ranges from 7 to 10 days. Only in exceptional cases do we have care for several weeks or longer. Sometimes the family will look for us, the doctor will recommend us, other times the patient will find us at the hospital.
How is this support financed?

We mainly deduct from health insurance companies and subsidies from state administration and self-government, we use grant opportunities. Some of the resources come from patient and client payments. However, we would not be able to provide our services in full breadth and quality if Cesta domů did not enjoy the trust and support of donors, they are much like family silver for Cesta domů, we really appreciate their generosity.
How much does it cost me as a customer?
The daily fee for the care of the interdisciplinary team at Home Hospice Cesta domů is CZK 200. If the patient meets the indication criteria, the health care is partially covered by the health insurance company and the daily care fee is reduced to CZK 100. We arrange and explain everything at the first informative meeting.
Do you personally meet the dying? How do you experience it?

Personally, I only exceptionally come into families, but every now and then I have the opportunity and appreciate it. We have a certain privilege to enter a private space in a marginal and difficult situation, to look into a piece of a unique story. We do not evaluate, we do not know family history, relationships, contacts. We are with the dying and his loved ones for a limited time and we try to follow them as best we can. It is certain that, contrary to various clichés and expectations, it is not primarily difficult and just sad. Everyone says goodbye in their own way.
Can you give some examples?
Grief is part of parting, but it is not the only thing that follows us. The simplistic notion that it is only grief close to death does not apply, each of us experiences extreme moments differently. And when a person dies at home, it is somehow more obvious – each family has its own culture, customs, rituals, and these remain present even in the last moments. Somewhere there are more tears, somewhere people mourn more inside. Some need silence, others play popular music. Somewhere they are silent, somewhere else they remember together and aloud, and there is also laughter, a joke, drinking wine, answering raw children's questions and the like.
Being dying nearby must be emotionally demanding. How is it determined whether volunteers who are also involved in the professional care of the dying on the way home are suitable for such work?
They undergo a relatively long and intense training. It also includes psychological tests, we talk a lot together, both sides must make sure that the decision to go after it is right. Professional experience and previous education for volunteer work they are not a basic important criterion, nature, openness and respect for others are much more important. And then it is important that the volunteer is a balanced personality and has his or her anchor. Helping others should not be a tool for solving your own problems, it usually does not work well.
How do you think about your own death? And does he not show up for this job after a period of numbness or grief?
This is a good and also quite difficult question, it is not easy to answer. Of course, when death is around you literally every day, you can not help but think about it. At the same time, the stories are so colorful and unrepeatable that they teach us a certain humility. We are certainly not experts on death or those who are not afraid of death.
The second sub-question is very interesting. There is no sadness on the way home, more fun and laughter than anyone would expect. And I'm still amazed that at work we are held together by an awareness of strong respect for each individual. But we experience certain situations strongly, especially when someone we have a relationship with dies, or perhaps someone our child's or partner's age. As professionals, we should certainly not be overwhelmed by grief, but naturally expressed emotions are not inappropriate; naturalness, on the other hand, is an important value that patients and their loved ones tend to appreciate.
Has a story stuck in your memory?
He is unique in every human story, but of course something particularly strong resonates with each of us, perhaps because it is linked to our own experience, family, something familiar. Stories that somehow dispel myths and stereotypes speak most about me. Such a strong image of two young men who took care of their brother in a wonderful way until the end – all between 20 and 30 years. Or a teenage girl who spends focused time with her dying grandmother and it is not difficult to help her with even the most common things. And then I carry a picture of a family bed where a little boy spends his last moments, teddy bears and mom and dad next to him, who love him so much that they can give him that closeness and security, despite their deep grief.
Should dying children be present?

If I was a child and my grandfather became seriously ill, I would expect my parents to tell the truth. I can not imagine a greater importance than that my loved ones hide something important to me. So yes, I think we should talk openly about children with death, albeit, of course, in proportion to their age. Encourage them to express what they feel, answer their questions, let them be close to the dying if they are worth it, while not making more demands on them than they can bear. Books from our publisher can also help them, for example when someone dies for dinosaurs there are no dragons, elephant in peace or we wave to you, grandfather.
What do people want at the end of life, how do they experience their last moments?

Some need to talk, others welcome silence. Some people want to be surrounded by their loved ones, others "choose" the moment when he is alone for the last exhalation, others "wait" until someone from a distant land manages to return. Somewhere she cries, somewhere else she remembers happily. Some people have to say certain things, solve them, for some it is important to solve old bruises, for others it is important to arrange the conservatory in the garden, others are about not forgetting to invite to the funeral … I hate to generalize, but I can probably say that good dying when there is an opportunity to thank you for all the nice things, to forgive what went wrong and to say goodbye.
Does a person feel that he is leaving? If he has time to arrange everything he deems necessary, does he then leave reconciled with life, with the world?
Reconciliation is a mystery of its kind, and I believe it is a state of mind, something intimate that we do not ask. Sometimes it's noticeable, other times it's just guessing and often we just do not know. The truth is that people whose deaths can be expected often "choose" their moment for the last exhalation – for example, the moment when their loved one leaves the room for a few minutes. It also often happens that the dying person "waits", for example he still needs to meet someone who returns from a distance or with whom he wants to learn something important. But even this does not always apply, sometimes it just does not happen and the end of life is always different, it can not be planned.
[ad_2]
Source link