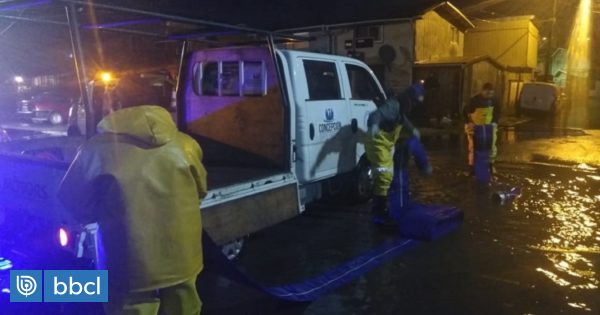 The rain and the wind have not given rise to violence in the great sense in recent hours, causes water logging on several points in the province such as the Costa Mar sector, in San Pedro de La Paz and Ramón Carrasco in access to Lomas de San Sebastián.
After the latest report from the Chilean Meteorological Directorate, they have so far fallen close 44 millimeters of rain, a phenomenon that has also left winds up to 70 km / h and thunder in coastal sectors. The regional director of Onemi in Bío Bío, Carolina Zambrano, assured it Preventive early warning will be maintained.
https://media.biobiochile.cl/wp-content/uploads/2019/06/12-cu-biobio-zambrano.mp3
Because of these conditions, the Chilean meteorological office came out to inform the details of the front system, ensuring that it is a cyclonic circulation low pressure distributed over much of the Bío Bío region.
However, the entity indicated that the conditions are not comparable to those that occurred during the previous event where tornadoes were registered in the area, so there is one very low probability that the phenomenon can be repeated.
Meanwhile, in the case of the complications generated by the rain, in the Talcahuano 20 departments of the Jardines del Sol condominium, in Jaime Repullo street, rain filtration led through the walls and the electrical system, leaving three to four inches of water on the floors.
There are closed harbors for smaller and larger boats, with total paralysis of activities in Talcahuano and Lirquén, and for smaller ships in Lot, Coronel and San Vicente.
In addition, the streets of the Boca Sur sector in San Pedro de la Paz could literally not succeed, and the water ended up in the nearby houses that left 57 flooded houses, according to Mayor Audito Retamal. A preliminary protection was also installed and emergency deliveries were delivered.
https://media.biobiochile.cl/wp-content/uploads/2019/06/13-cu-lluvia-retamal.mp3

The phenomenon is predicted will continue with violence this Thursday, leaving intense rainfall and thunderstorms on several points in the Bío Bío region.