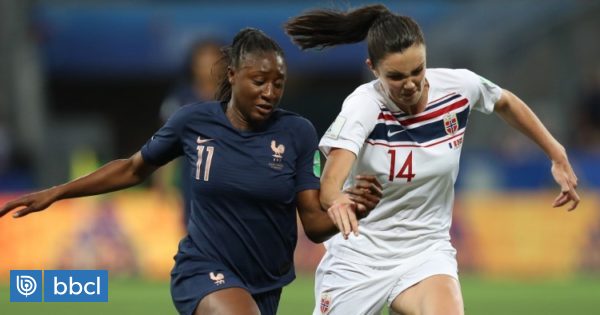 The French women's club took a big step towards the last 16 of their "World Cup" at home and beat Norway (2-1) and recovered from a goal against Wendie Renard, this Wednesday in Nice.
The players led by Corinne Diacre will earn another point to secure the lead of their key, June 17 in Rennes against Nigeria. Valérie Gauvin, replacement in the opening match, made the first goal, while Eugénie Le Sommer made the victory penalty.
In the second game on the key, on Wednesday, Nigeria beat South Korea 2-0.
France responded with this triumph of prestige before its strongest rival of the key to the exhibition made by the main candidate to extend the title, the United States, with its 13-0 thrashing the day before to Thailand.
"Bleus" could meet Americans in the quarterfinals if the two teams lead their teams and start on the same side of the table.
Almost 35,000 people witnessed their second victory in Nice in Nice, and in the eyes of male coach Didier Deschamps, the French did not score as brightly as for the South Koreans.
Renard (1.87m), who made a double in that game in the Parc des Princes, declined a ball he was trying to clear at the end against his goal.
But the penalty was determined after the audit in VAR by the judge Bibiana Steinhaus, known to be the first woman who had officially matched a professional match between men, allowed Le Sommer, even a painter in the first match, to leave the three points at home and hostess with one foot in eighth.
Formation of France
Bouhaddi; Torrent, Bathy, Renard, Majri; Henry, Thiney, Bussaglia; Diani, Gauvin and Le Sommer.
Norwegian training:
Hjelm Seth; Wold, Mjelde, Thorisdottir, Mind; Saevik, Risa, Engen, Reiten; Hansen and Herlovsen.