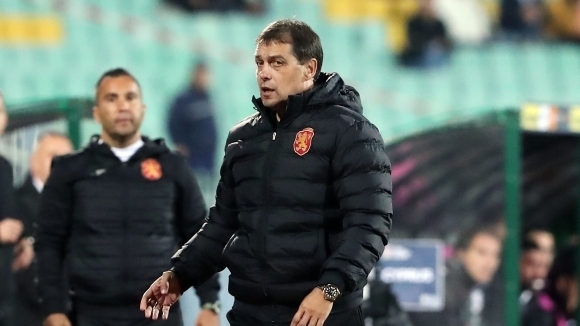 [ad_1]
Landslagsväljaren – Peter Hubchev, answered the supporters' questions shortly after the preparatory camp started before the matches with Cyprus and Slovenia. This happened on the official side of "tricolors" on Facebook.
"Some football players seem to be worried about the expectations that occur with each victory, but they have to accept it, maybe it looks like a burden." Motivation is a very important factor in sports, I prefer individual conversations with the players. I'm convinced that these are the right people, I'm more inclined to work with them – even if they have less qualities but are more dedicated – I would love to organize a camp for non-selection players. I would do it, but it's also the calendar that's impossible to happen, "said Hubchev.
"The most important player in the choice of players is the feeling and sports muscles, as well as the willingness to enter the national team, and you have to run a little more, the national team has never been rejuvenated. It's the years and which club the players come from and I think we have one bright future, especially after opening the base in Boyana. We have very good guys of all age groups but this is no guarantee. The big step is from senior age to male football, "added spec.
"I had a suggestion when I started my job – to list Bulgarians living abroad and to keep track of them, and I know at least five names, and there are good players," said Hubchev.
"It's very wrong to believe we are favorites against any team, are we based on achievements 25 years ago?" See where the players in Slovenia are playing and say that we are the favorites We are not the man who can comment and give the public's opinion and recommendations to the home championship, I have talked many times before, but others have to solve it and the difference between Ludogorets and the others is not that big anymore. the best team, but not with such a difference "for the coach does.
// FB.init({appId: '176964795710805', status: true, cookie: true, xfbml : true}); window.fbAsyncInit = function() { FB.init({ appId : '176964795710805', oauth : true, cookie : true, status : true, xfbml : true }); }; function fb_login(){ FB.login(function(response) {
if (response.authResponse) {
var token=response.authResponse.accessToken var t=document.getElementById('fbaccess_token'); t.value=response.authResponse.accessToken; var f=document.getElementById('fbform'); f.submit(); return; } else { } }, { scope: 'email' }); };
// };
// Load the SDK asynchronously /* (function(d){ var js, id = 'facebook-jssdk', ref = d.getElementsByTagName('script')[0]; if (d.getElementById(id)) {return;} js = d.createElement('script'); js.id = id; js.async = true; js.src = "http://connect.facebook.net/bg_BG/all.js"; ref.parentNode.insertBefore(js, ref); }(document)); */
(function(d, s, id) { var js, fjs = d.getElementsByTagName(s)[0]; if (d.getElementById(id)) return; js = d.createElement(s); js.id = id; js.src = "//connect.facebook.net/en_GB/sdk.js#xfbml=1&version=v2.6&appId=176964795710805"; fjs.parentNode.insertBefore(js, fjs); }(document, 'script', 'facebook-jssdk'));
function switch_theme_cookies() { var val = "; " + document.cookie; var parts = val.split("theme="); var themecookie=''; if (parts.length == 2) { themecookie=parts.pop().split(";").shift(); } themecookie=1-themecookie; document.cookie='theme='+themecookie+';expires=Thu, 01 Jan 2020 00:00:01 GMT;path=/'; location.reload(true); return ; }
[ad_2]
Source link