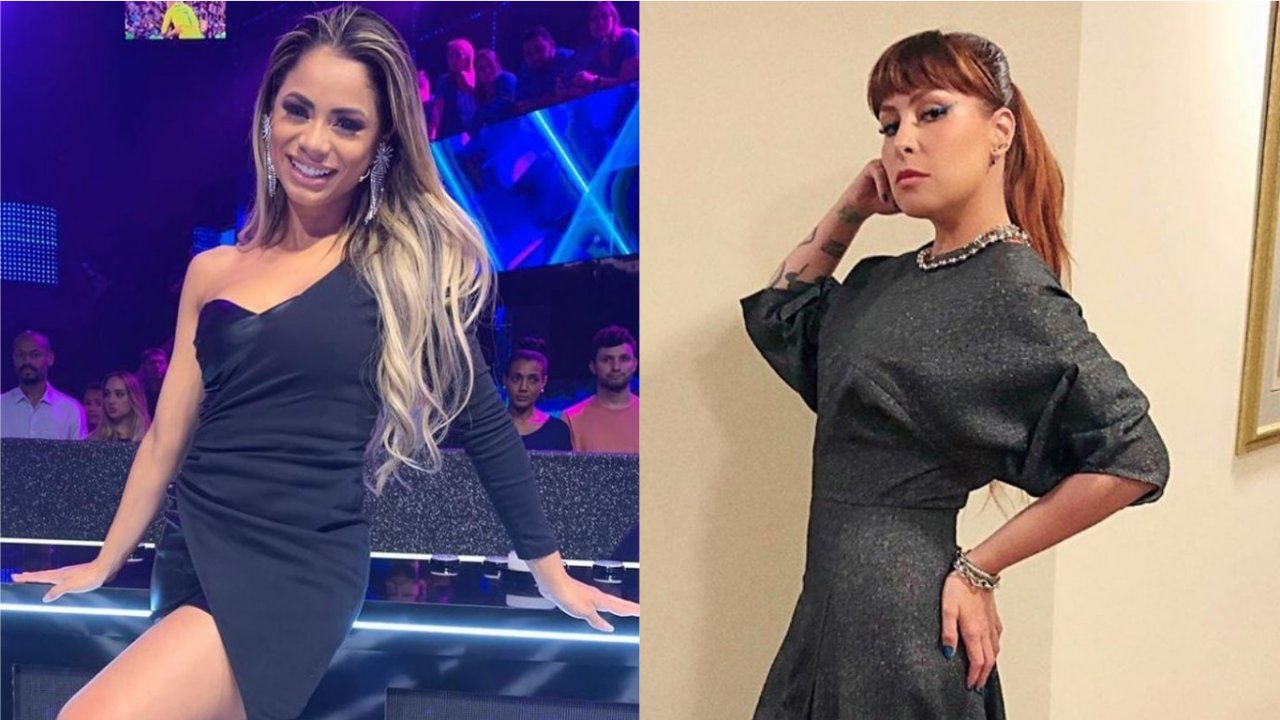 No more confusion between these two muses of Brazilian music! After Lexa accused Pitty's team of "rudeness and machismo" and the Bahaian singer made a statement, disagreeing with how the matter was treated so publicly, "Sapequinha" ended the discussion.
Through a series of videos on Instagram Stories, Lexa said that Pitty was looking for her to talk calmly and understand each other's page. "I explained that my complaint never went to her. Never. On the contrary, I talked about her in a very respectful way. ", pointed out the carioca.
"My problem was how her team … finally"Interrupted Guimé's wife, without thinking about the issue. She went on to say that they both came to the conclusion that they have something in common. "We elevate women and do not want any kind of discussion or struggle going on", he said.
Lexa explained that she never wanted to stand up to Pitty and create a woman-woman fight. On the contrary, my intention was to defend one thing. We understand each other. I want to make it very clear again: I did it just because I was doing it for someone. And she is also a feminist, she understands and respects "he explained.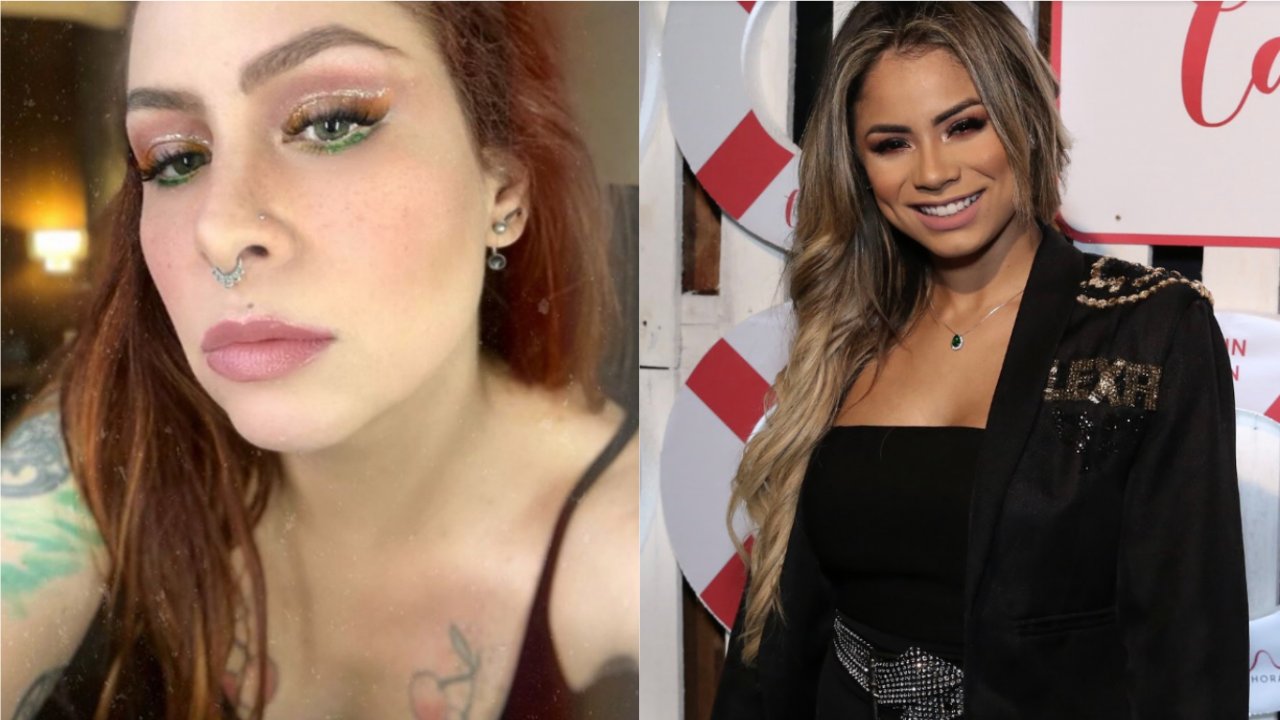 "That's it, guys. In my shows, I always say: "Boys, if the girls said no, it's no". It was just another message for men to respect women, but between me and Pitty everything is fine. Stop fighting, this topic is dead. ", the singer stopped.
Check out her stories below:
Hey Girl! Lexa talks last time about "confusion" with Pitty and reveals that there is no further disagreement on the subject: "We are two mature women and we talk and wish each other good things." pic.twitter.com/RLIsBF3l3b

– BCharts (@bchartsnet) November 18, 2019
Remember the case
A little disagreement ended up generating stress at a musical event this weekend in São José dos Campos. One of Inter UNESP's main attractions along with Pitty and other established names, Lexa utilized her moment on stage to air a dull situation that happened behind the scenes and involved the Bahian singer's team. Pitty himself later commented on the case on social networks.
According to "Sapequinha," Pitty's employees mistreated her when she tried to watch the singer's backstage show. "I'm a big fan of this wonderful warrior woman who fought for her space in rock, which is so difficult. But I have to talk about her team, which was very rude, " announced to the public.
"I wanted to see her show here from the corner and they took me off stage. So far so good. I was expelled? OK. This is not the problem ", He continued. Lexa said Pitty's team would have told her to jump was banned, and that's when she realized it was leaving the stage.
But what really affected him was how they talked to the fire brigade who served at the event. "They told the fire brigade that they couldn't even watch Pitty while doing the show. Honestly … There were two women, firefighters, who were here in the corner and deserve respect. Machistas will not pass! I don't speak for myself, no. I speak for them. I met these two firefighters in my dressing room and they reported it to me. I know Pitty doesn't agree, but her team needs to look into this kind of situation, " He finished. Look below:
Many Lexa fans went to Pitty's social network to complain about the situation. "Your team doesn't have to do it against Lexa," complained to an Instagram user. However, Pitty was not silent and replied: "Love, I got it and it was none of it. So to want to chase confusion where there is none … ".
But on the sting of the fans, who accused her of "lack of sorority", the Bahian woman spoke again – and this time gave some more details: "Sorority would be that she came to talk to me directly if something had really happened and didn't expose me for no reason. There was no machismo. She was in an area that could not be transferred to the management and security. My crew tried to take her across the stage where it was safe, and she did it wrong. That said, it was a misunderstanding. I got tired of staying here and trying to protect her and broken into an unprofessional attitude that created all this confusion. It's a sorority. And now, enough. I've lived in music for over 16 years, not controversy. Light Kisses. (You can read and get the story because then I delete it. I'm tired of it and have more to do). "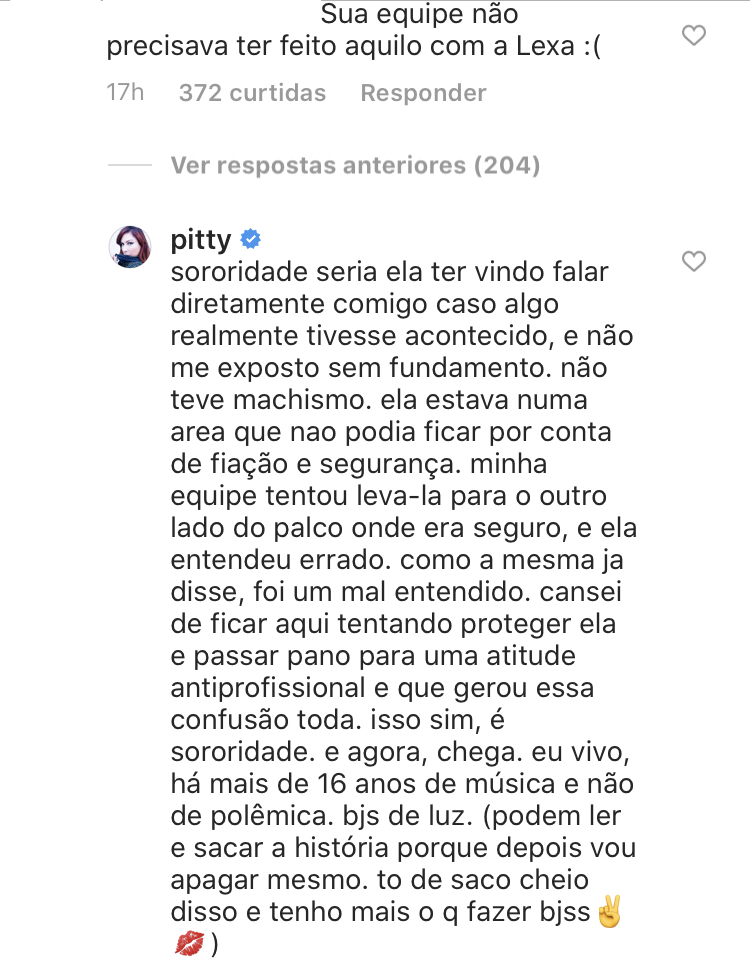 Later, in the "Come Fetch Me Hebe" profile, Lexa responded to Pitty's post. "No, her team didn't try to do that, so much so that when I got back to the locker room, her security guard was arguing ugly with me, but like I said, if it were just me, I wouldn't have said anything. The whole point was that two firefighters who saw the situation came to report what they had lived to me immediately. That's why I thought I really needed to talk, " He motivated. And added: "They told me, & # 39; They said that when she came by, we wouldn't even look at her. & # 39; Why does a blonde girl from the incident apologize to me for what happened? Why militate so many artists on TV, radio or on stage and applaud and when they return with them is it not acceptable? (and for God's sake, it wasn't for her).
"I want to make it very clear that when I spoke on stage I took all the care in the world, I started PRAISE Pitty and I only mentioned the team because of two women who were embarrassed. If you had talked to them, you would understand my position to defend them. It is. I knew other women. I came an hour earlier in the show just to watch Pitty's show, we got in the van and sang her songs and like I said, I never, never hurt Pitty's honor, wouldn't have the courage, I just mentioned that there are men who need and need to know how to behave with a woman ", He finished. See below: