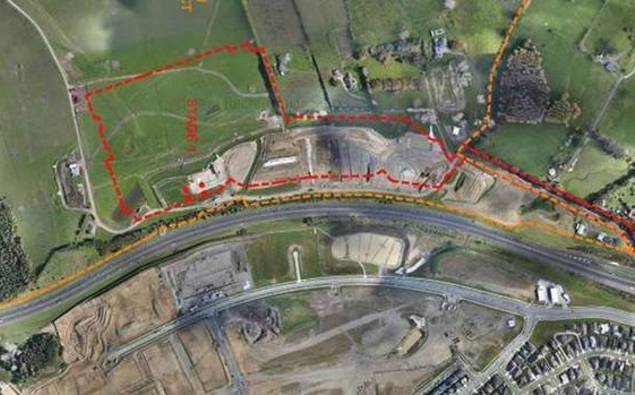 The owners of 9000 new homes north of Auckland will pay an "infrastructure payment" to get roading and water work on development.
The payment, which has not been determined, will be added to calculate bills collected by the Auckland Council.
Details of the new financing model were announced this morning by Transport and City Development Minister Phil Twyford and Auckland Mayor Phil Goff.
A partnership will fund $ 91 million of roading and wastewater infrastructure to support the construction of the 9000 homes in Wainui, north of Auckland.
The Government Special Purpose Vehicle (SPV) was created in cooperation with the Auckland Council, Crown Infrastructure Partners and Fulton Hogan Land Development.
Twyford said the Milldale project shows a financing approach that allows private investment in new infrastructure that the debt is in a balance sheet that is neither the council nor the government.
In July last year, Prime Minister Bill English presented the new financing model at Drury in South Auckland to allow people to buy cheaper homes in exchange for paying higher prices and water bills.
The scheme operates by government and private investors, which pays the impending cost of new transport and water infrastructure, which is recovered by the fact that the new housing issues higher interest rates and water bills over a period of 20 to 30 years.
The National Government announced a new investment infrastructure, Crown Infrastructure Partners (CIP), to attract private sector investment and drive the system.
It was getting $ 600 million government funding to get the construction of 23,300 new homes in the north and south of the city.
It was set up to provide major new housing developments, which cash flow advice Auckland can not afford, as it is right against the debt ceiling.
At that time, Twyford said Labor welcomed the CIP financing model and was keen to continue its work to create a financing movement for developers.
"The Milldale project is an example of the innovative new methods of financing infrastructure developed by the government through the Urban Growth Agenda. This financing model can be used in other high growth areas affected by the housing crisis to help more houses build faster," Twyford said today.
"One of the most important roadblocks for our cities is the lack of clear access to infrastructure funding that allows for new urban development, for the development of green or brown fields," he said.
Goff said that a key priority for the council was to address the shortcomings and inability of houses in our city.
"We have so much more land for housing, but we need the infrastructure before we can build on it.
"By using Crown Infrastructure Partners to finance the infrastructure, we can build roads, water and wastewater without overloading the council with debt and exceeding our debt to income ratio.
"We can build more homes earlier and address the housing crisis faster than otherwise would have been possible.
"This project allows nearly 4000 new homes in Milldale, and the infrastructure can also support another 5,000 homes in the surrounding areas. It is a big step towards meeting the housing needs of Auckland."
Fulton Hogan Land Development has already begun working with Milldale development in Wainui, which will have nearly 4000 homes and businesses.
The infrastructure funded will support Milldale's development and will also allow another 5,000 residential buildings to be built nearby, with $ 33.5 million for this provided by the Auckland Council.
Crown Infrastructure Partners has secured long-term fixed interest receivable from Accident Compensation Corporation. SPV will fund $ 48.9 million against infrastructure, with the krona contributing less than $ 4 million.
SPV funding will be repaid over time in part by Fulton Hogan Land Development and partly by section owners as an "infrastructure payment" combined with council rates.
Milldale development will be a modern, integrated urban development with green spaces and parks, a center, cycle paths and footpaths, and possibly educational facilities, and will be connected to the North Busway.
Fulton Hogan Land Development, in collaboration with a joint venture partner, has previously developed Millwater, on the eastern side of the north highway, and sees Milldale as the next development of this city development.
Source link