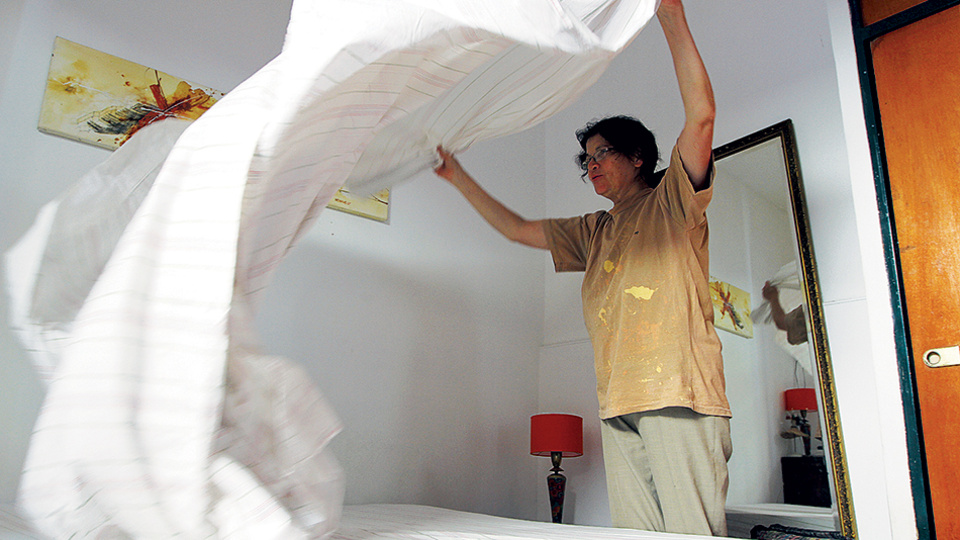 Cleaning the house, ironing, cooking and caring for the children is not just a non-payment job, invisible and not acknowledged. It also has consequences for mental health. And it produces misery. A study by the UCA Social Debt Observatory and the Ombudsman in the Province of Buenos Aires found that women in the suburbs who do so exclusively, that is, without working outside the home, are more likely to fail, to experience symptoms of depression and anxiety and to have a deficit of personal projects, they cannot be believed beyond the daily. "It is a very strong problem from a sanitary point of view. They should not recommend anxiolytics; they would have to give work (payment)", concludes Agustín Salvia, report coordinator and research director of the Argentinean Social Debt Observatory Program, which presents the main study findings " Employment and Unpaid Work: An in-depth look at the distribution of unpaid work in Buenos Aires Conurbano 2017-2018 ", reflecting, among other things, the" inequalities "particularly exposed to women in the most vulnerable sectors: they have lower activity and employment levels than men; high unemployment and a greater burden for domestic work and care (see separately). But if paid and unpaid work is added, Salvia stressed, "women work more than men. And in the suburbs, the proportion is higher than the average." They are "women caught in the domestic room," Salvia says.
The report is based on the results of a survey of a sample of 1332 cases each year. As a new approach, it reveals the existence of the female population's subjective well-being, of uneven distribution of household chores. "It is a type of work that is not seen and valued for the product, but it is only when there is absence, that makes the worker feel that this work does not generate any kind of value or recognition. The lack of appreciation and social recognition and own generates great accident "summed up Debora Tajer, Ph.D. in psychology, sanitary, responsible for the chairman of "Introduction to gender studies" at the Faculty of Psychology, consulted by Page 12.
The importance of cleaning
The study shows that women in the suburbs 18 years and older have a greater burden of intensive domestic tasks and care than women in the country as a whole. They do three times more unpaid work than their male counterparts. And in this group, those who are most stressful are those who are between 35 and 59 years old. But in the area that expands the gender difference is among those who are over 60: in this group they participate 3.5 times more than those in domestic data and care. Everyone who works in the labor market also does so at home: they have a double day. On the other hand, less than twice as many busy men, she performs cleaning tasks in the house and takes care of the chiques.
Another fact that reveals the study is that young people do not become more involved in domestic tasks and care: "Younger men perform less unpaid tasks," says Salvia. "We were hoping to find a generation change. We did not find it sure that the youngest has their mothers taking responsibility for these tasks," Salvia risked.
The survey showed that
* The women in the Buenos Aires suburbs dedicated exclusively to domestic data and care in the home-based indicators of subjective discomfort, which may triple those who show those who are only working on the replaced market.
* They also have almost three times more deficit in the ability to have personal projects than those who have jobs.
* And 4.7 times more sense of accident than those who only shop in the labor market.
Salvia pointed to the lack of "economic and social recognition" of domestic data and care as one of the factors likely to affect the housewife's subjective discomfort. "It seems like it's a psychological state but in reality it's a social condition and has to do with uneven distribution of domestic tasks. We discovered the healing role of paid work," Salvia said. And he emphasized the fundamental importance that this invisible work has on economic and social reproduction. Measuring its impact "is a turning point in the statistics," he said. "Domestic tasks fulfill a function, they are work, they have value, they give value, even if they are not replaced. Women do the most and it is hidden in social statistics. It is a contribution to social reproduction when they accuse them for planning, "he stated. That is what feminist economists have pointed out for decades: with love or without love, it is work. "Not only is it not replaced, but it generates a greater inclination to accident, to depression, to anxiety," he said. He added another fact derived from the study: "The fact that a double shift is made does not exacerbate the situation" because work outside the home serves as an "escape route", as opposed to having to deal only with cleaning, cooking and caring for the children. and sometimes others in the family, sick or dependent on certain disabilities.
The study was conducted based on data from the investigation of the Argentine Social Debt (EDSA), coordinated by Salvia and its authors are the researchers María Rosa Cicciari, Cecilia Tinoboras and Camila Weinmann.
Worst most vulnerable
For the report coordinator and the research director of the Observatory Program for the Argentine Social Debt, the indicators of the housewife's subjective discomfort reflect a "very strong picture from the health point of view. They should not recommend anxiolytics but work (payment)." "The poorest place is the problem of not getting a job and if they get one, they have no choice but to stay at home (doing housework and care because they can't pay someone else, as if it happens in more affluent sectors). They are exploited by the market and by necessity. They do not have public services (which assume the unpaid work they do) or their partners share them, "Salvia described. And he stressed that the situation "gets worse when there is a crisis like now." "All of this is a vacuum that has accumulated (for years) along with the aggravation of poverty (at present). People have less money to pay for a resource." And in that respect, it was imperative that public health policies be implemented, like the women , lesbians, transvestites and the movements have claimed most strongly since the first international women's stop in 2017: "Young people can be educated, men and women who are unemployed through their own employment programs, and who are paid to care for care in the most vulnerable areas, he finished.
The results of the study were presented by Salvia, Tinoboras, and the province's ombudsman, Guido Lorenzino.
assessment
Page 12 consulted on the housewife's illness to Débora Tajer, doctor of psychology, psychoanalyst, sanitary and professor who is responsible for the chairman of "Introduction to studies of gender" at UBA's faculty psychology. Tajer recalled that this research line began to function between the 1970s and 1980s, in studies on mental health with a gender perspective. "The first studies done in mental health and women were relative to the so-called" empty nest. "A North American psychiatrist stated that women who had the only project in their lives raising children when they left were depressed because it was as if retiring, there was nothing to do, until then it is said that it was depression because of menopause, as it coincided with the vital phase of women, but now we have begun to work in childbirth, in the private sentimentalized to say It somehow, the lack of connection with other women, the repetitive work, which generates anxiety, depression and lack of appreciation, says Tajer.
– Why do healthcare and household tasks act when they develop exclusively because they experience these pictures? – This magazine asked him.
– Little lack of appreciation of women themselves has to do with it, but in our society women are encouraged to do domestic chores, care, at the same time not valued: that is, they encourage you to do one I work, but no one will value you for it. And it is also a kind of work that you only see when you are not there: if a house is neat, clean and there is food, everyone takes it as nature is as if the food grew in the refrigerator and everything is self-cleaning. You just notice that someone takes care of that task when there is no food or the house is dirty. Then it is a type of work that is not seen and valued by the product, but only when it is absent, the worker therefore feels that this work does not generate any kind of value or recognition. The lack of valorisation and social and personal recognition generates a great accident. It is inverted when they have some social task or extra homework, even if they pay a little. It's incredible. It gives them autonomy. He makes them fix. Someone looks at them, tells them something, builds friendships and it is a very important difference between happiness and accident.
Source link